Why involvement of groundnut farmers in seeds study is crucial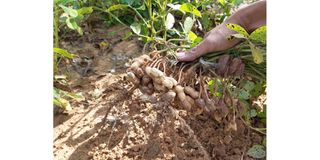 Mtwara. Authorities have recently unveiled the significance of farmers' involvement in studies aimed at getting better groundnut seeds that will increase crop yields.
Apart from export and generating the much needed foreign exchange, groundnut is used in Tanzania for production of edible oil following the country's lack of self-sufficiency.
Report of the Bank of Tanzania (BoT) shows a decline in edible oil import bill from $188.7 million in February 2022 to $144 million in February 2023.
Tabling the 2023/24 budget in Parliament, Agriculture minister, Hussein Bashe, said groundnut production has been significantly increasing in a period of 2017/18 to 2021/22.
According to him, the amount of groundnuts in tonnes and production years in brackets are as follows: 370,356 (2017/18); 376,520 (2018/19); 631,465.23 (2019/20); 895,219 (2020/21) and 936,799 (2021/22).
Increased demand for the seeds for cooking oil manufacturing has forced researchers to involve farmers in their studies for better seeds in order to increase productivity.
These studies have been conducted in Tabora, Katavi, Kigoma, Geita, Mara, Mwanza and Shinyanga regions where farmers have been supplied with experimental seeds.About 45 to 60 experimental seeds provided to farmers enable researchers to identify suitable seeds that are compatible for different types of soil and weather, therefore increasing agriculture productivity.
Groundnuts national coordinator from the Tanzania Agricultural Research Institute (Tari) at the Naliendele Centre, Dr Happy Daudi, says collaborative studies focused to enable them produce better seeds.
She says that farmers' involvement enables them to find suitable seeds which are resistant to pests and disease for their respective areas.
"The collaborative studies have been helpful to us as researchers as they enable us to look at what should be done to improve the quality of seeds in order to fit characteristics of respective planting regions," she says.
"We have three to four things that we give the farmers, including 17-20 seeds for collaborative experiments. They are also provided with three types of seeds to enable us to understand conducive weather, disease resistance as well as their market potential and preference of customers," she adds.
After farmers have made their choice, she says researchers are an opportunity to test their quality and what was the general observation.
Furthermore, she says most of the time, farmers are given seeds that are still under research as well as those that have been approved in order to enable them to see their results. According to her, in the demonstration farms, farmers normally plant three types of seeds in order to enable them to identify type of seeds to be sent to particular regions.
"Groundnuts seeds are highly demanded as compared to the country's low production. Extension officers and farmers need increased education to increase production for improved seeds to reach more farmers in the country," she says.
A groundnuts researcher at the Tari-Naliendele Centre, Mr Juma Mfaume, says many crop farmers are being educated on best farming practices in order to increase production.
He says over 17 types of seeds have been distributed to farmers for trials in Katavi, Tabora, Kigoma, Geita, Mwanza, Mara and Dodoma regions.
"The seeds have been distributed to farmers in those regions during the ongoing collaborative studies to identify better seeds suitable for their respective areas," he said.
Bukombe District Commissioner Said Nkuba says owing to the groundnut ballooning market, farmers are supposed to be educated on the need to use improved seeds in order to increase their income and hence their respective income.
"Since the world embraces advanced technology in different areas, farmers should be educated to professionally cultivate the crop in order to increase production," he says.
"Moving forward, we believe that farmers can increase incomes through increased engagement in agri-business," adds Mr Nkuba.
Ms Issabella Pastory, the Agriculture Officer of Ilela Ward in Mlele District, Katavi Region, says the positive response of groundnut farmers have enabled them to increase production, not only for domestic consumption but also income generation.
She says the motivation has come after farmers have realised that there was an increased number of groundnut shelling equipment, enabling them to reduce time taken for groundnut peeling.
"Last year, one of our farmers harvested 300 bags of the crop to emerge the top farmer at the national level. This has motivated other farmers to actively engage in crop cultivation," he said.
Ms Martha Susu, a groundnut farmer in Itundi Ward, Urambo District in Tabora Region, says introduction of improved groundnut seeds was a huge boost to farmers.
"Seeds received for trials have shown to have high yields contrary to our expectations, hoping that the seeds can generally be considered as our liberator," she says.
Ms Leopodina Paul, a peanut farmer from Kiganza Village, Mwandiga Ward in Kigoma District, says provision of sufficient seeds would enable them to increase yields.
"Usually, they quickly germinate and they are resistant to pests and diseases. Once they are planted professionally, they meet market demands by attracting buyers. Authorities should provide us with enough improved seeds in order to enable us to produce in large-scale," says Ms Paul.
Ms Elizabeth Hosea, a farmer from Ryambamgongo Village in Bukombe District, Geita Region, says improved groundnut seeds have motivated farmers to increase production.
"Increase in yields automatically enables us to actively move to agribusiness which is an active farming in boosting the economy of individual farmers and the nation in general," he said.
"We have acquired knowledge and improved groundnut seeds for trials which is a motivation to most farmers to increase the crop production," says Ms Hosea.
Ms Tumaini Kalenga, a farmer from Katavi Region, says she has received education and experimental seeds for trials, confirming that the seeds were growing well.
"We are now observing the advice of Tari experts in order to benefit from the available groundnut market opportunity that becomes lucrative every day," says Ms Kalenga.
"You can grow and harvest groundnuts without any doubt, which means farmers get high yields of big nuts without invasion of pests. Generally, farmers are proud of the Tari-Naliendele Centre," she praised.
"Last farming season, I grew groundnuts in a one-acre farm and harvested seven bags of the crop. Now I have seen the advantage of professional farming and use of improved seeds as they are pests and disease-free as well as drought resistant," adds Ms Kalenga.
Mr Masanja Malembeka, a groundnut farmer from Mpunze village in Kahama District, Shinyanga Region, asked for an increased quantity of improved seeds provided to individual farmers.
"I was trained to correct past mistakes, therefore enabling me to cultivate the crop professionally using better seeds. The problem is that many farmers still use hand hoes, therefore enabling them to cultivate a small piece of land," says Mr Malembeka.