Why reform of Tanzania's fire and rescue force is imperative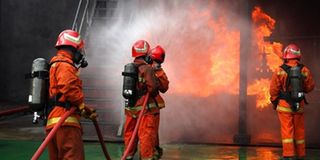 Summary
Reliable sources revealed that the country's system on fire and rescue services is centred on the outdated culture of putting more weight on fire incidents
Dar es Salaam. Tanzania's Fire and Rescue Force needs a significant reform in order to be aligned with the ever-changing challenges that the country faces as far as protecting its people and saving lives are concerned.
According to trustworthy sources, the country's system for fire and rescue services is based on an antiquated culture that places more emphasis on fire events than other types of emergencies, which is incompatible with the contemporary pace required for competent emergency responses.
The system has therefore made it challenging to save lives in the many disasters the nation has seen and has instead remained a tool used to console victims and their relatives.
"Each service must evolve to address new threats, keep pace with social change, improve effectiveness and efficiency, and grasp the opportunities offered by technological advances," said one of the sources who preferred anonymity.
With the primary objective of ensuring the safety and wellbeing of people and properties, the protection of people, buildings, and lives becomes the focal point of any operation related to fire and rescue services.
"The fire and rescue service is meant to be an emergency response, an effective prevention service that should stand at the heart of the country's resilience capabilities; it should be trusted and respected by the people," said an experienced member of the force's staff.
"Our system requires a change because of the ongoing pace of technological advancement and the difficulties we face. The anticipated change will enable us to better recognize and manage emerging hazards and take steps to reduce them," added the source.
It was also highlighted that the planned reforms are intended to improve performances, since when something is not operating as intended, one needs to adjust by changing strategies for improved service delivery.
Tanzania has seen a number of tragic events, including the sinking of the MV Bukoba in Lake Victoria, which left 700 passengers dead and 53 people alive; only 392 remain found. Other major incidents include the MV Spice Islander, MV Skagit, and MV Nyerere, all of which sank and killed hundreds of people.
Along with aviation crashes, the nation has also had train crashes, traffic accidents, mine collapses, and building collapses. Therefore, as saving lives is one of the first duties of the government, appropriate action must be taken.
The proposed reform will include recruiting other professionals such as paramedics, divers, electricians, and explosion and forensic experts to change the workforce's skills to reflect the ever-changing technology.Other reforms should be related to financing, in which modern equipment needs to be purchased, as currently the focus is on purchasing fire engines, yet ambulances, as well as air and marine rescue services, seem to be ignored.
Therefore, the proposed overhaul strategy would mean removing all traditional barriers to efficiency and keeping the standards to which the force operates relevant to modern needs.
According to media reports, while the common perception of the force is that it fights fires, the service's role should be much broader to reflect the new demands placed on it, where fighting fires is only part of the job.
For example, while air and sea rescue missions should be part of the force's mission, it lacks the necessary equipment, relying instead on other forces such as the police and the army [Tanzania Peoples Defense Force - TPDF], which carry out their duties professionally.
"When a TPDF rescue team responds to an emergency, they are fully equipped; depending on the nature of the emergency, they will have appropriate equipment and a professional workforce that includes medics, divers, electricians, blast experts, etc," the source observed.
For Mr Juma Mahmood, an entrepreneur, said: "Our fire brigade is a total failure; they are most likely to arrive late at the scene and without water. I think we are now used to them, but I completely conquer the suggested reforms."
Adding: "In fact, they are currently recruiting, but only for candidates who have undergone national service (JKT) training; of course it's healthy, given the fact that "Zimamoto" is currently a force, but I think they need to go beyond that."
Mr Mahmood was of the view that the country's fire and rescue force needs to imitate other forces as they do have other competent professionals, which is a plus of having modern tools.
"The country is facing many kinds of challenges, such as floods, road traffic collisions, fires, and air and marine-related disasters, so protecting people against these challenges requires a forward-looking approach and new kinds of skills and knowledge," the entrepreneur observed.
According to him, the force should understand that each day someone's life is in danger and needs to be protected and saved. The force should also face a day with the understanding that each day is different, thus posing new challenges to tackle, so providing first aid to health and safety professionals would add more value and benefit the community. For her part, Ms Ann Mgema, a Dar es Salaam resident, said: "We are still far behind when it comes to engaging in fire and rescue missions, our response to emergencies is very critical; and even when it comes to disaster management, we operate poorly."
She added: "I think even the disaster management department (DMD), under the prime minister's office, needs to be reformed; the department should be incorporated within the fire and rescue force; this would be easy in responding to emergencies." Efforts to reach the Fire and Rescue Force for a clarification didn't bear fruit, as the force's spokesperson, SACF Puyo Nzalayaimisi, was out of reach.
Furthermore, during a recent emergency cabinet meeting in Dodoma presided over by President Samia Suluhu Hassan and discussing issues related to the Precision Air deadliest plane crash, the Cabinet ordered the strengthening of emergency response and disaster management units.Mr Innocent Bashungwa, the defense minister, on the other hand, was quoted as reiterating public concerns about the need to strengthen the rescue system and stating that the government will work on the issue.