Why Tanzania needs tougher steps to combat climate change effects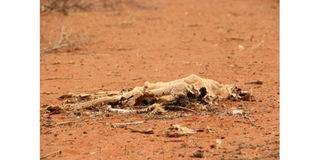 What you need to know:
The need for creative thinking, widespread cooperation and radical climate solutions is more than ever as this year is expected to bring about another round of climate-related calamities
Dar es Salaam. Tanzania, just like the rest of the world, is grappling with the adverse effects of climate change, which are exacerbated each year by ongoing human activities.
As it stands on record, the year 2022 was certainly one of the most extreme when it comes to climate disasters. Record-breaking temperatures and shocking floods, droughts, and storms devastated many regions of the world.
In Tanzania, experts advised the government to make massive investments in the technology of drilling boreholes, improved seeds, food reserves, and water harvesting to mitigate the effect of a shortage of rainfall, which was announced by the Tanzania Meteorological Authority (TMA) in the latter stages of 2022.
With this year promising another wave of climate-related disasters, which will contribute to rising humanitarian needs, innovative ideas, collective action, and radical climate solutions are more urgent than ever. Climate experts also advised farmers to plant crops that are drought-tolerant, such as cassava and sorghum, so that people could benefit with little rainfall (below normal).
"Unprecedented" often feels like an overused word. And whilst 2022 certainly was an unprecedented year of climate disasters, experts warn of bigger and deadlier weather events to come. While it can take months for scientists to establish a direct link, our changing climate is increasingly influencing many of the world's emergencies," said the World Food Programme (WFP).
Last year deepened the worst drought on record in the Horn of Africa, destroying crops and livelihoods and pushing communities to the brink of famine.
Meanwhile, severe floods affected 19 countries across West Africa and plunged one-third of Pakistan underwater.
The first week of 2023 alone saw many countries in Europe observe the warmest January day on record—after experiencing, in 2022, the second warmest year ever recorded.
Most devastating of all, those suffering the worst impacts did little to cause the problem. The 20 countries on the International Rescue Committee's 2023 Emergency Watchlist—including drought-hit Somalia and flood-hit Pakistan—contribute only two percent of global greenhouse gas emissions.
With country climate action plans and commitments falling "woefully short," UN Secretary-General Antonio Guterres is convening a "no-nonsense" climate action summit this September.
"No exceptions. No compromises," he says of a gathering expected to focus on concrete, practical solutions and collective action in tackling the greatest threat facing humanity.
In December, when Dubai hosts the 28th UN Climate Change Conference (COP28), world leaders will hopefully come armed with new, more ambitious commitments to lower emissions and protect people from loss and damage—the hot topic of the climate world in 2022.
"We hope that the climate summits in 2023 will see much more concrete commitments to reduce greenhouse gas emissions and help the most vulnerable communities on the climate frontlines protect themselves from loss and damage," says Gernot Laganda, WFP's Director of Climate and Disaster Risk Reduction Programmes.
Sokoine University of Agriculture (Sua) senior lecturer Anna Temu said that instead of depending on the rainy season only, the Tanzanian government should facilitate and invest in underground water by drilling boreholes.
She was of the view that Tanzania should borrow a leaf from Namibia, a desert country that uses its little rainfall to collect water.
She also suggested for Tanzania to draw a lesson from South Africa, a country that has a lot of ponds that supplement crops and livestock in case of drought.
There is a need to facilitate and provide awareness to the community about the effectiveness of rainwater.