Why Tanzania wants Tulia to head world parliamentary body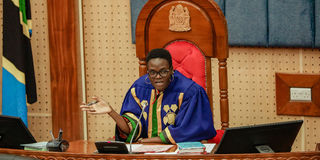 Summary
The speaker of Parliament, Dr Tulia Ackson, is seeking to contest the presidency of the Inter-Parliamentary Union (IPU) when it comes up for a vote in October this year in Luanda, Angola
Dar es Salaam. The government announced yesterday that it was strongly backing the Speaker of the National Assembly Tulia Ackson as its candidate for the Inter-Parliamentary Union (IPU) presidency, saying she possess unmatched qualifications, experience, and commitment to democracy that were relevant for the job.
The IPU is the main decision-making body made up of parliamentarians from around the world and has as its members 179 Parliaments out of the 193 countries with legislative bodies in the world.
The organ which is currently led by a Portuguese national, Mr Duarte Pacheco, expects to select its new leader during the 147th assembly to be held from October 23rd to October 27th, 2023 in Luanda, Angola.
Speaking yesterday the minister for Foreign Affairs and East African Cooperation Dr Stergomena Tax said the IPU is a key international organ that facilitates parliamentary diplomacy and empowers parliaments and parliamentarians to promote peace, democracy, and sustainable development around the world.
She said if elected Dr Ackson will lead the organization from 2023 to 2026, and will be the first woman from Africa to hold that prestigious position, and the first-ever president, hailing from the Eastern Africa sub-region.
The minister was speaking with foreign envoys representing their countries in Tanzania and members of IPU from Tanzania.
She said IPU is a decision-making body that offers solutions to challenges and crises such as the effects of climate change, socioeconomic challenges, inter-state conflicts, and other issues related to peace and security, that have wide-ranging ramifications to develop and developing countries.
Describing the professional qualities of Dr Ackson Dr Tax said; "Dr Ackson is distinguished politician, a remarkable lawyer, and an accomplished academician who has demonstrated maturity, professionalism, dynamism, and outstanding leadership skills throughout her career."
According to the minister if Dr Ackson is elected come October 2023 she will hit the ground running as the priorities are all set.
Some of the issues that the presidential aspirant plans to do include facilitating more effectiveness, transparency, and accountability, and reviewing its statutes, processes, and operations.
"She is determined to spearhead constructive reforms in the IPU that would make IPU more effective in promoting peaceful coexistence and global prosperity. She would also seek to ensure that the Geopolitical groups have a greater say and representation in the various organs of the organization," she said.
Dr Tax added that Dr Ackson is determined to use the IPU platform to advocate for increased women representation in parliament, which currently stands at a mere 22 percent, globally.
"She intends to put in place mechanisms for implementation of IPU's resolutions and decisions and strengthen cooperation with the UN System and other stakeholders, and to set up avenues and mechanisms for regular consultations within and between the Geopolitical groups of IPU on key issues," said the minister.
What it means to Tanzania
Highlighting the significance of the position to Tanzania, the country's representative to the IPU and Member of Parliament for Singida-West Mr Elibariki Kingu said it is a strategic role to promote Tanzania as a democratic country.
He said the position would bring recognition and attention to Tanzania and could create opportunities to advocate for the country's interests and its citizens.
"It is time for Africa. The IPU president has a key role in decision making that involve big institutions like the UN, that is why we as Tanzania are support Dr Ackson's candidacy for the benefit of the nation," he said.
She has been in politics since 2015 when she was elected as deputy speaker. She was re-elected in November 2020 and then succeeded Job Ndugai as Speaker in February 2022 after the latter resigned.
Before entering Parliament she worked as a senior lecturer at the University of Dar es Salaam (UDSM) (2004-2015), and had a short stint as deputy Attorney General in 2015.
She has a PhD from the University of Capetown and Masters Degree (LLM) from UDSM.