Mayele stretches lead in Golden Boot race as NBC League rolls on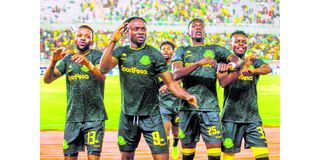 What you need to know:
Yanga's Congolese striker Fiston Mayele is leading the scoring chart with 15 goals and is followed by Simba's Zambian striker Moses Phiri with 10 goals
Dar es Salaam. As the Mainland Tanzania NBC Premier League continues today at two different venues, foreign players lead the Golden Boot award race against local players.
As per the fixture, Tanzania Prisons is hosting Ihefu FC at the Sokoine Stadium in Mbeya, where the match will kickoff at 4pm and another encounter at 7pm will see Kagera Sugar battling against Coastal Union at the Kaitaba Stadium in Kagera.
Tanzania Prisons are now placed 11th with 21 points from 20 matches, a position that is not safe for them due to the point gap against other teams.
The league log shows that if Ihefu FC record victory over Tanzania Prisons in today's encounter, they will be placed in the ninth position of the league standings and leapfrog three teams namely Dodoma Jiji FC, who are placed 12th with 21 points, Tanzania Prisons (11th, 21 points) and Mbeya City, who are placed 10th with 21 points.
For their part, if Tanzania Prisons win over Ihefu FC, they will go up two positions, leapfrogging 10th-placed Mbeya City with 21 points from 20 matches and Kinondoni Municipal Council (KMC), who are placed ninth with 23 points from 20 matches.
Coastal Union are also in the demotion zone after collecting 18 points from 20 matches. The team is placed 14th in the league table and will need victory to improve their position. Kagera Sugar seem to be in the safe position, although they need victory in order to go up in the league log. The statuses of the four teams in the league standings make today's matches vital. Ihefu FC head coach Zuberi Katwila said they have prepared well for the encounter and are hopeful to record a good result.
"We lost 1-0 to Yanga at the Benjamin Mkapa Stadium and we need to record victory in the encounter in order to avoid relegation. We need to prove our worth, although we are going to face one of the tough teams in the league," said Katwila.
Tanzania Prisons head coach Patrick Odhiambo also said they are targeting a good result in the game. "Our last match was not good for us as we lost 3-0 to Azam FC. Before that, we drew 7-1 against Simba. We need to record victory and improve our chance," said Odhiambo.
Meanwhile, foreign players are placed at the top of the Golden Boot race. Yanga's Congolese striker Fiston Mayele is leading the scoring chart with 15 goals and is followed by Zambian striker Moses Phiri of Simba SC with 10 goals.
Two Simba players, Saido Ntibazonkiza (Burundi) and John Bocco are placed third with nine goals each, while Mbeya City striker Sixtus Sabilo, Congolese Idris Mbombo of Azam FC, Meddie Kagere (Rwanda), Bruno Gomes (Brazil), both of Singida Big Stars and Mubarack Hamza of Coastal Union have each scored seven goals.