Everton deducted 10 points for breach of financial rules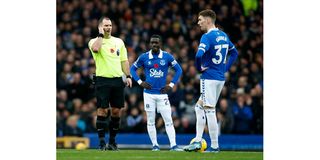 Everton have been deducted 10 points for breaching Premier League profit and sustainability rules, which plunges the Toffees into 19th in the table.
The club was referred to an independent commission in March for alleged breaches which related to the 2021-22 season and a hearing took place in October.
The Premier League pushed for a sizable points deduction to set a precedent after the club were charged with breaching financial rules back in 2021-22. The Toffees posted staggering financial losses of almost £372million over a three-year period.
That is more than £250m above what the Premier League's guidelines permits clubs to lose over a three-year rolling time frame. The technical alleged breaches related to accounting treatments, with the League arguing Everton breached profit and sustainability rules (PSR).
A Premier League statement this afternoon read: 'An independent Commission has imposed an immediate deduction of 10 points on Everton FC for a breach of the Premier League's Profitability and Sustainability Rules (PSRs).
'The Premier League issued a complaint against the club and referred the case to an independent commission earlier this year.
'During the proceedings, the club admitted it was in breach of the PSRs for the period ending Season 2021-22 but the extent of the breach remained in dispute.
'Following a five-day hearing last month, the commission determined that Everton FC's PSR calculation for the relevant period resulted in a loss of £124.5million, as contended by the Premier League, which exceeded the threshold of £105million permitted under the PSRs.
'The commission concluded that a sporting sanction in the form of a 10-point deduction should be imposed. That sanction has immediate effect.'
Everton will appeal the verdict in the strongest possible way. They strongly deny they did not breach PSR and their financial losses were due to the building of a new stadium at Bramley Moore Dock and whether the interest payments on that development were permissible.
The Toffees believe a sporting sanction is wholly disproportionate and completely inappropriate. Everton will point to previous cases such as when six Premier League clubs were given a meagre fine for trying to break the football pyramid with the European Super League.
Portsmouth were the last Premier League team to be docked points when they entered administration in 2010 and were given a 10-point penalty, ultimately relegating them. Everton will point out that entering administration is a more serious breach than their alleged doings.
Financial rules were loosened by the Premier League during Covid with all clubs suffering from the pandemic in terms of lost gate receipts and commercial opportunities. But Covid hit Everton harder than most, while they also point to the Russian invasion of Ukraine as a mitigating factor.