Heavyweights vie for driving seat in league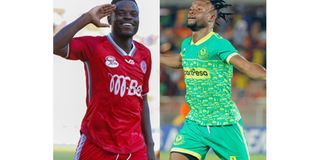 Summary
In the golden boot race, Fiston Mayele of Yanga is leading after scoring eight goals and is followed by Mbeya City's Sixtus Sabilo with seven goals
Mbeya. As the Mainland Tanzania NBC Premier League gathers pace, giants Simba Sports Club strikers have proven their worth on goal scoring despite point dropping woes.
Simba are now placed third in the league log after collecting 28 points from 13 matches.
The records show that the team strikers have so far scored 25 goals while their defenders have allowed six.
The statistics also show that Simba have so far dropped 11 points in the ongoing league after drawing four matches and losing one.
The Reds lost 1-0 to Azam FC before registering a barren draw against Yanga and later drawing 2-2 with KMC and 1-1 with Singida Big Stars.
The team also recorded a 1-1 draw against Mbeya City as per the records, Yanga follow Simba on goal scoring with 21 goals. However, Yanga have played two matches less when compared to Simba.
Also, on the list of teams with many goals scored are Mtibwa Sugar and Mbeya City who each have scored 19 goals. Azam FC have so far scored 18 goals and are placed second with 29 points from 13 matches.
The league statistics also show that a total of 215 goals have been scored by all 16 teams whereby top five placed teams namely Yanga, Azam FC, Simba, Singida Big Stars and Mtibwa Sugar have in total scored 94 goals.
In the golden boot race, Fiston Mayele of Yanga is leading after scoring eight goals and is followed by Mbeya City's Sixtus Sabilo with seven goals, while Reliants Lusajo (Namungo), Idrissa Mbombo (Azam) and Moses Phiri of Simba have each scored six goals.
Players who have so far scored four goals in the ongoing Premier League are Feisal Salum of Yanga, Matheo Anthony (KMC) and Abalkassim Suleiman of Ruvu Shooting.
Players who have scored three goals each are Moubarak Hamza of Coastal Union, John Bocco (Simba) and Prince Dube of Azam FC. Yanga's Bakari Mwamnyeto and Tepsie Evans of Azam FC have each scored two goals.