Jangwani Grounds, once a football hub with over 20 pitches now a floods zone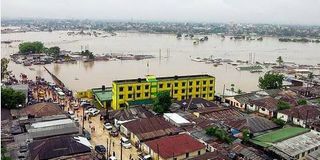 Summary
Jangwani Grounds used to be like a football hub, all Dar based senior league clubs had their training grounds there but now the place look like a swamp, flood zones, no longer a place for football.  
An area of about 400,000 square meters that was; once a home of over 20 football pitches, accommodating more than two thousands spectators at one go, now looks more like a swamp- a floods zone thanks to environmental degradation and effects of climate change.
From the 1960s to early 1990s, Jangwani Grounds used to be like a football hub, where talent was discovered, nurtured and helped to grow. All Dar es Salaam-based senior league clubs, including the arch-rivals; Simba and Yanga, Pan Africa, Cosmo and Red Star had their training grounds there.
Former Simba striker AbdallahKibadeni nicknamed King Kibadeni, who holds a record of scoring hat-trick in the Dar Derby to beat their arch-rivals Yanga 6-0 in 1977, recalls saying Jangwani was like a place that laid the foundation of Tanzanian football.
He says all Dar es Salaam boys and others from upcountry who played football could go to Jangwani Grounds to showcase their talents in a bid to attract the attention of big clubs.
"I started going there in 1963 when I was still a student of Makurumla Middle School. I always went there after class to play football," he recalls.
Kibadeni, a former national team player, says further that after football they could also fish at the nearby River Msimbazi, because it was clean water flowed almost throughout the year. "Look at the river now; it is full of sand plus waste of all kinds."
Another boy from the 1960's Sunday Manara, remembers well about Jangwani Grounds. He says that is where he started playing football with Young Kenya before joining Yanga Kids and then Yanga.
Manara was nicknamed 'Computer' because of his high and unique football skills. He also played football in Europe from 1977 to 1980 with Heracles FC of Holland and in the USA with New York Eagles in 1981.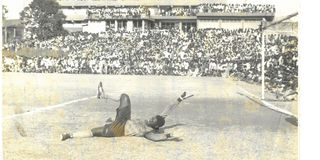 He puts the blame on authorities for their failure to give proper environmental education as one of the reasons that have led to the pitiful state the Jangwani Grounds are in now, hence no longer a place for grooming young football talents.
"In Europe such places could be protected, trees could be planted, people could go there to watch football and enjoy life,'' he says.
Manara says that River Msimbazi, which pours its water into the Indian Ocean, has been turned into a garbage bin, domestic and industrial waste is all dumped there, and no efforts is seen to be done to clean it of the sand deposited in it.
"Because of waste and sand, the river is not deep enough hence instead of taking rain water down to the ocean, it is easily flooded hence turning the Jangwani Grounds into a floods zone,'' says Manara.
Mohammed Bakar 'Tall', a former national team player, is another Jangwani Boy, who first played for Cosmo before joining Simba in the mid-1970s.
"Simba signed me from Cosmo. Both clubs had their training grounds at Jangwani. For me it was like I moved from training on ground A to B,'' says Tall who played as a center back.
He says had Jangwani Grounds been given it's worthiness, Tanzania would have been far in football, but now the place is no longer suitable for football. It has become almost inhabitable.
JumaPondamali, former Tanzania One who was in the national squad that qualified for Africa Cup of Nations (Afcon) for the first time in the country's history in 1980, is another Jangwani Boy.
Pondamali was likened to former Colombian goalie Rene Higuita, who was known for his pranks, the most remembered among many, was during the 1979 Cecafa Challenge Cup in Sudan.
In a match against the host, he caught an-eighteen-meter shoot from Sudanese striker Mustapha Nagal only to throw the ball back to Nagal who used the opportunity to kick another shoot, but again Pondamali was in control and saved it.
In his teen-age, he played football with different local teams at Jangwani Grounds before joining Yanga Kids, Yanga andlater Pan Africa.
He says the environment problem at Jangwani Grounds started slowly, it wasn't abrupt. "Those who started vegetable gardens along the Msimbazi River Valley, diverted water from the river into their gardens but during downpour their farms were flooded and the river was full of waste, that is when water started filling the football pitches,'' he says.
"In the past, during the rainy season we could go to the nearby Azania Secondary School ground, after one or two days Jangwani would be dry and we would go back there,'' he says.
Another Jangwani Boy is Peter Tino, a scorer of the goal that helped Tanzania qualify for Afcon 1980.
After a 1-0 home win against Zambia, Tanzania managed 1-1 draw in Lusaka with Tino's goal in the 87th minute in-front of the then Zambian President, Kenneth Kaunda. Zambians were the first to score in the 10th.
Tino remembers Jangwani Grounds as the place where he started showing his football talent with Bonde FC in the 1970s; he later joined other clubs but returned to Jangwani in 1981 when he was signed by Pan Africa and later Yanga.
AdolphRishard, another Jangwani Boy, was also in the squad that qualified for Afcon 1980 and the scorer of the only goal in the home game. He grew up playing football at Jangwani Grounds with small teams before joining Yanga Kids then Yanga and Pan Africa.
"To me Jangwani was like a free academy. Yanga, Simba and Cosmo were the biggest clubs; they signed their best players from Jangwani Grounds."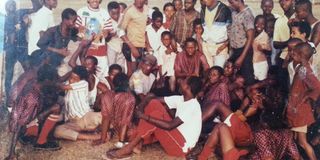 Adolph remembers well Jangwani Grounds because it is where he met his first ever European coach, Professor Victor Stanculescus from Romania who came to Tanzania in 1970 to coach Yanga.
"Before coaching the senior team,Professor Victor used to train children at around 14pm, he would assemble over 100 boys just to search for talents, some of us were selected by him to join Yanga Kids then Yanga, so when I say Jangwani Grounds was a free academy that's what I mean,'' says Adolph.
"In those days, Jangwani Grounds could accommodate more than two thousand spectators at one go as they watched matches and training sessions of their choice because there were many teams playing on the many pitches that were there,'' he says adding that even the first eleven that beat Zambia to qualify for Afcon all were Jangwani Boys except three.
"With the exception of LeopaldTasoMukebezi, our defense line comprised of Jangwani Boys starting with our goalkeeper, Pondamali, defenders Mohammed Kajole, LeodegarTenga and JelaMtagwa all were Pan Africa players.''
"Other Jangwani Boys were JumaMkambi the defensive mid-fielder and Omar Hussein the right-winger who were playing for Yanga,'' he says.
"Our attacking mid-fielder Hussein Ngulungu and center-forward Mohammed Salim joined national team from Mseto FC  of Morogoro and Coastal Union of Tanga respectively but Salim was replaced by Thuweni Ally, another Jangwani Boy who was playing for Simba.''
Other first eleven players were Tino who played as left wing and Adolph himself, another center-forward.
"In the second match there were tactical changes, only Mkambi was benched but I played his position while Tino played mine and his was played by Thuweni Ally,''  he added.
Another footballer who grew up playing football at Jangwani Grounds is Abbas Kuka, a centre back who exceled with Red Star in the mid-1980s though he also played for Simba.
Kuka blamed the current situation of the Jangwani Grounds on poor urban planning especially in mid-1990's, "People started raising buildings on paths that we used to pass to get to Jangwani Grounds, those were also like water channels during the rainy season but were blocked, and this turned the grounds into a floods zone."
In 1972, Yanga built their training ground oppositetheirheadquartersnot far from the Jangwani Grounds. They named it Kaunda Stadium in respect of president Kaunda of Zambia. But under the current circumstances, even Kaunda is flooded during the rainy season, and no longer a place for playing football.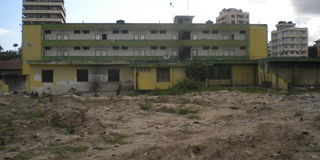 Former Yanga dependable left-back, Ken Mkapa, is another player whose talent was nurtured at Jangwani Grounds. He played for Yanga from 1987 to 1998 when he retired. He was the team captain from 1989 to 1998. He also played for the national team from 1988 to 1997.
"I started playing football with Tambaza FC, Asante Tololo and Kiuta until 1986 when I joined Pan Africa before crossing to Yanga in 1987. All those teams were training at Jangwani Grounds. So, I was just switching pitches in the same area. There's no way you can talk of my football career without mentioning Jangwani Grounds,'' he says.
Mkapa blamed on population increase and climate change as the factors that have put the JangwaniGrounds on a sorry state.
"In the past, Jangwani Grounds was a place for sports, not people's settlement. However, due to population increase, slowly people started building houses, that was the beginning of the problem,'' he says.
"Also there is climate change, the rains we have been getting in recent years are heavy that cause floods, in the past it wasn't like that,'' he says.
Johnson Mbwambo, founding editor of by weekly sports newspaper 'Dimba', says that to him Jangwani Grounds was not a place for collecting sports news only but also for pleasure. He used to go there during weekends just to watch the ongoing training sessions or matches between local teams.
"I keep wondering when I hear people complaining about lack of football talents in Tanzania, while places like Jangwani Grounds are no longer there,'' says Mbwambo.
As an environmental journalist, Mbwambo, the former chairman of Journalists Environmental Association of Tanzania (Jet) also blame on environmental degradation.
The football authority is also not happy with the loss of open spaces meant for sports activities including the Jangwani Grounds.
Wallace Karia is the President of Tanzania Football Federation (TFF). He says that government must protect open spaces meant for sports because that is where talents are groomed.
He says that whenever a new city is established those who are responsible with city plans must consider the importance of sports.
"Children have to start playing football at early ages and football grounds have to be near their homes. We all know that parents cannot allow their kids to play football far from home. As matters stand currently, we are allowing ourselves to lose many football talents because of lack of open spaces,'' says Karia.
Hope for Jangwani Grounds
While football enthusiasts are complaining about the loss of their football pitches, the Ilala Municipal Council through the support from World Bank is planning to return the good old days of Jangwani Grounds but this time with modernization.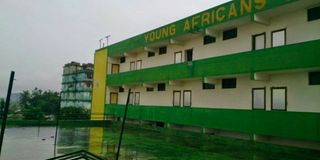 JumanneShauri is the director of Ilala Municipal Council, he says that their plan is to turn Jangwani Grounds not only a sports hub but also a place for tourism, starting from Kisarawe along the River Msimbazi Valley right to its mouth at the Selander Bridge covering about 18 kilometers.
"We are expecting to spend $105 million (about Tsh240 billion) support from World Bank to change Jangwani Grounds and all places along the valley so that not only football, but so that we will have fields for other sports,'' says Shauri who also blames climate change on the poor state of the Jangwani grounds.
"Climate change is now a global concern. We have been getting heavy rains in recent years. We are building bridges, most also get washed away by water. Sometimes we are even forced to close some of our roads because of floods,'' he says.
He also blames on population increase and unplanned settlement: "In the 1970s the population of Dar es Salaam was not more than 500,000 but now we are over 5.5 million."
"We know those who have houses near Jangwani Grounds but it is hard to remove them because they claim to hold traditional title deeds over the pieces of land,'' he says.
______________________________