Kenya driver shines in 42nd edition of Africa Rally event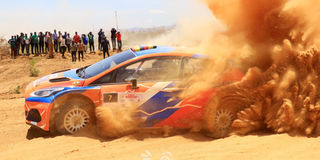 What you need to know:
The ARC title was a two-horse race between Patel and Mangat, with each passing stage in Tanzania as he settled down and came to terms with the Hyundai
Iringa. Kenyan driver Karan Patel and his navigator Tauseef Khan have been crowned the 2023 Africa Rally Championship (ARC) winners, beating the other six drivers in the event held at Sao Hill Mafinga in Iringa last weekend.
The ARC title was a two-horse race between Patel and Mangat, with each passing stage in Tanzania as he settled down and came to terms with the Hyundai.
Patel garnered 144 points, followed by Mangat of Uganda, who collected 141 points, and Yasin Nasser, also from Uganda, in the third with 114 points.
Others on the score sheet are Hamza Anwar (Kenya, 63 points), Innocent Bwamiki (Uganda, 55 points), Prince Charles Nyerere (Tanzania, 55 points), Rio Smith (Kenya, 24 points), and Asad Anwar of Kenya, who collected 19 points.
Tanzania's famous driver, Gurpal Sandhu of Arusha, placed ninth after collecting 19 points, while Nickel Sachania of Kenya completed the top 10 finalists with 17 points.
Also on the 11th is Kenyan driver McRae Kimathi, who collected 15 points.
The victory means Patel has managed to return the title in Kenya after Zambian driver Leeroy Gomes and navigator Urshlla Gomes, who won the sixth edition last year.
This is the ninth victory for a Kenyan driver since the first event held in 1981, where Shekhar Mehta won the silverware.
Other Kenyan drivers who managed to win the event are David Horsey in 1984, Jaspreet Singh Chatthe (2015), Don Smith (2016), Manvir Baryan (2017, 2018, 2019), and Carl Tundo in 2021.
Zambian driver Satwant Singh and his navigator Urshlla are leading the race after winning eight titles in history.
Zambia is also at the top of history with 13 titles, and Zimbabwe has managed to win four titles in history.
Speaking after the event, Patel admitted the event was very tough despite his first victory.
"I faced strong opposition from other drivers. I had my plan that has been paid for, and I am now celebrating the victory despite the fact that I did not win Tanzania's edition," said Patel.
Patel also became the first Kenyan pair to achieve the feat in a Ford, and the marque's second title after Zambia's Leroy Gomes last year.
Navigator Tauseef also becomes the fifth Kenyan to win the title after Mike Doughty, Surinder Thatthi, Bob Kaugi, and Tim Jessop. Before Tanzania's event, Karan and Tauseef registered four wins in Rwanda, Kenya, Burundi, and Zambia.
"We had to be strategic in our approach for this event. We've had a strong winning streak at ARC events, and I don't normally enjoy the thought of not winning one, but this event podium for the ARC championship was more important, and we will savour it for years to come."
Patel, a former motocross racer and now the top rallying practitioner on the African pro circuit, went to Tanzania to chase the continental title with a roll at the Super Special Stage in Zambia, which was recently still fresh in his mind.