Prime
Lugalo golfer brings honour to Tanzania Ladies Open tournament 2023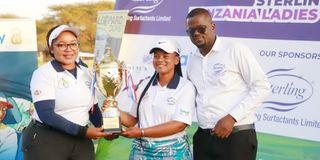 What you need to know:
The Tanzania Ladies Open trophy was normally won by foreign golfers, especially from Kenya and Uganda.
Arusha. After a long wait, finally, lady golfer Vicky Elias makes Tanzanians proud after winning the Tanzania Ladies Open Trophy for the first time after grossing 233 strokes at Kili Golf Course last weekend.
The Tanzania Ladies Open trophy was normally won by foreign golfers, especially from Kenya and Uganda. In 2019, Ugandan Peace Kabasweka won the trophy, and in 2022, Naomi Wafula of Kenya won the 54-hole trophy, respectively.
It was not easy for Elias to win the trophy due to the close contest between the other two golfers. She was closely contested by Madina Idd, who placed second after grossing 234, and Kenyan Ashley Awuor, who grossed 235.
Elias recorded 76 strokes on the first day before adding another 80 and 77 strokes on the second and third days, respectively. Idd did not play well in the first two rounds after recording 77 and 82 before sparkling in the third round with 75 gross.
Awuor recorded 78 on the first day before scoring 82 and 75 in the second and third rounds of the event, which was also sponsored by Stealing Surfactants Limited and Airpay Tanzania Limited.
Also in the top five were Mercy Nyamchama from Kenya, who recorded 241 to stay in the fourth, and Hawa Wanyeche, Lugalo's famous golfer, who collected 241 gross. Speaking after the competition, Elias said she was very happy to win the title after being away for two years.
 "The trophy was dominated by Kenyan and Ugandan golfers. Not only me but also other golfers were in headaches about the trophy to cross the border as it is organized by the Tanzania Ladies Golf Union (TLGU). I am proud of becoming the first lady golfer to win the trophy in the country in the past four years," said Elias.
Elias also secured a slot in the national ladies golf team ahead of the East and Central Africa Regional Challenge Trophy (ECA), scheduled to be held in Kigali, Rwanda, from October 30 to November 4.
Other golfers who are forming the team are Madina, Wanyeche, and Neema Olomi. Tanzania is among 11 countries that will compete in the tournament.
"I am so proud of this, but it was not easy because the competition was very tough. I thank God for giving me the title and for successfully bringing it back to our country," said Elias.
Tanzania Ladies Golf Union (TLGU), Queen Siraki, commended the winners and other stakeholders who made the event successful.
"I also thank Sterling Surfactants, who were the main sponsors, and other co-sponsors are Airpay Tanzania, NCBA Bank, Off the Beaten Path Safaris, Tanzania Breweries Limited, Bansal Steel Rolling Mill, Azam Media, Wayne's Premium Brand, and Leopard Tours.
It was a thrilling and tough competition from day one to the end. I am really excited about the performances in the game. We are in the positive direction of the game." Said Siraki.
 The tournament also saw Loveness Mungure emerge at the top in the silver category, registering 213 nets, followed by Amina Khamis with 214 nets, while in the bronze category, Jazilla Daniel won top position with 198 nets and Gladys Maina placed second with 203 nets.
In the professional category, Arusha Gmkhana golfer Nuru Mollel won the title after scoring a total of 148 gross. Mollel was awarded Sh2.5 million, while Isaac Wanyeche of Kili Golf placed second after collecting 150 gross to take home Sh1.5 million. Third place was won by Fadhil Nkya after registering 157 gross to pocket Sh900,000.
In division A, George Sembi won first place with 151 net and was followed by Julius Mwizani, who recorded 149 net, while in division B, Kepha Mbise won first place after scoring 143 net and was followed by Martine Kiula, who amassed 136 nets. In Division C, Wenhao Chen won top position via countback against Shane Pandit after each scoring 135 strokes.
Meanwhile, Airpay Tanzania Limited business development manager Ayne Magombe thanked all professional golfers for showing a good standard in the event.
Magombe said their company is pleased to get the opportunity to be associated with TLGU in supporting the event.
Magombe also said they are very proud to see the first lady professional golfer, Angel Eaton, and they promise to support her.