Simba ready to take on Asec Mimosas in CAF duel today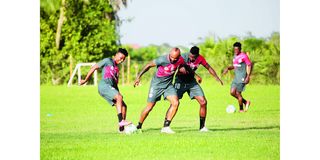 Summary
The match has been scheduled to start from 4pm and Simba head coach Pablo Franco is optimistic that his team will utilize the home ground with victory
Dar es Salaam. Football fans will today experience something special as the big guns, Simba and Asec Mimosas of Ivory Coast, clash at the Benjamin Mkapa Stadium in the first leg of the CAF Confederation Cup groups' stage.
The match has been scheduled to start from 4pm and Simba head coach Pablo Franco is optimistic that his team will utilize the home ground with victory. The match is expected to be a thrilling one due to the fact that the two teams have good records internationally. Simba, who will miss the services of some of their key players namely Kibu Dennis, Taddeo Lwanga, Chris Mugalu and Bernard Morrison, will be seeking to start the competition with a bang and maintain their unbeaten record at the home venue.
As Dennis, Lwanga and Mugalu nurse their injuries, Morrison has been suspended indefinitely by his club due to indiscipline. Also, on the list is Clatous Chama, who will not feature in the competition due to rules and regulations.
Chama, who returned to Simba from RS Berkane of Morocco, has already featured in the tournament with the team (RS Berkane) and according to the rules and regulations of the African football governing body (CAF), he is not allowed to feature in the same competition with two different teams.
Tanzania's giants managed to record positive results against the African giants like Al Ahly, As Vita Club, Kaizer Chiefs and many other teams. Pablo said they are targeting victory in order to start well in the competition, although they are facing tough challenges. "We need to do our best in the encounter against Asec Mimosas, who are a strong team. We have prepared our players for victory and that is what our team is focusing on," said Pablo.
He said they need to play with determination in order to win the match which Asec Mimosas also target victory, despite playing at the away venue. Asec Mimosas head coach Julien Chevalier said they are ready for the encounter and target a good results.
He said it is not going to be an easy game because they are playing against one of the giant teams in the league and they need to be well-focused throughout the match.