Stars 'still have chance to qualify for Afcon finals'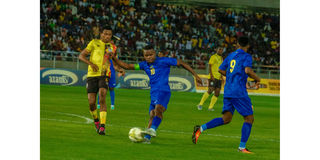 Summary
Taifa Stars are now placed second in group F with four points after playing four matches
Dar es Salaam. Football tacticians in the country have said the national football team (Taifa Stars) still have a chance of qualifying for the Africa Cup of Nations (Afcon) finals, despite a 1-0 loss to Uganda's The Cranes.
Taifa Stars are now placed second in group F with four points after playing four matches. Already Algeria have sailed through to the Afcon finals joining Burkina Fasso from group B and Ivory Coast, who are the hosts of the competition.
Speaking yesterday, Tanzania Prisons head coach Mohammed Abdallah alias Bares said Taifa Stars still have two matches to play against Niger in June at the home venue and away against Algeria in September.
Arithmetically, Tanzania, Uganda and Niger have the chance of making it to the Afcon finals, depending on the performance of their next matches. He said Taifa Stars must win both matches in order to qualify for the finals while 'praying' for Uganda and Niger to lose even one match.
"What is required here is to play the next matches well. The players are required to be well prepared while getting enough time. This will help the coaches to have many technical and tactical options. It is an open fact that the new Taifa Stars head coach had no enough time to train with the team," said Bares.
He explained that Taifa Stars have many talented and committed players who, he is sure, will do well in the next matches. Another football tactician, Joseph Kanakamfumu, said as per the group standings, Taifa Stars players need to stretch their muscles in the remaining matches in order to qualify for the finals. Kanakamfumu who is the head coach of Eagle FC featuring in the Regional Champions League, said although there is a chance, lots of work should be done in order to do well.
"We still have a chance, but it is not easy as many football stakeholders might think. Currently, we depend on other teams' results.
"For instance, we must pray that Algeria record victory over Uganda and Taifa Stars win over Niger…in football, you can make calculations, but it may come different. What we need to do is to win our remaining matches only," said Kanakamfumu.
Meanwhile, Taifa Stars player Novatus Dismass said they were disappointed with the result and promised to do well in the two remaining matches.
"We did not expect to lose the match. It was not our target, it is football, but we promise to rectify our mistakes in the two remaining matches," said Dismass, who plays for the Belgian side, Zulte Waregem.