When gaming meets communities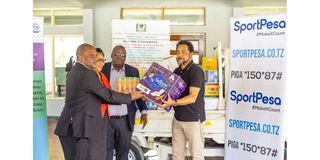 Betting has been the fastest-growing sector for the past 20 years, with such a growth largely ascribed to the mega investment by the foreign firms. Thanks to the sound investment climate set by the Tanzanian Government.
According to the Gaming Board of Tanzania (GBT), the gaming sector has accounted Sh170 billion to the country's GDP as well as created 25,000 employments within that two decades.
SportPesa, the leading gaming firm across the East African region, has splashed enough money into the sector and become the fantasy escape for the most gamers.
From the top-notch experience of placing bets on traditional sports games fixtures, then jackpots with cash-backs, to online casino, roulette, blackjacks and aviators, only to make sure your winning chances are not hanging by thread or win it unlimitedly if you dare.
Knowing that their market leadership hinges mostly on people, the company has engaged directly into impacting positively lives of the adjacent communities that they serve.
In health, the most significant docket, SportPesa officials paid a visit to the newborn and maternal ward at the Singida Referral Hospital and supplied some basic needs to the patients as part of celebrating the pinnacle of Singida Big Day, an observance hosted by the Singida Fountain Gate, one of the NBCPL football clubs it currently sponsors.
The management also held talks with the hospital chiefs to highlight key challenges face the facility as well as individual needs by the patients.
This has been the round-clock culture for SportPesa every year and it continues to survey other sectors that require their dire support as the Government could not be a lone contributor to the overall country's development.
Social engagements like these always solidify customers' intimacies with the company and create memorable images that never vanish. SportPesa values much their customers and will not stop supporting, bearing it in mind that through gaming, it touches even the lives of people who are not fans of betting.