Why our sports industry still need SportPesa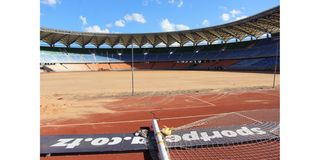 It goes without saying that there is a thin line between the Tanzanian football development and the active presence of the East Africa leading betting company, SportPesa, for the last five years.
Not just a game-changer in the gaming docket, but the betting powerhouse is so passionate about overhauling the entire sports industry. From sponsoring major league clubs in Tanzania Mainland, competitions and various sports events, to bringing big European giants to ever play matches in Tanzania's soil (Sevilla and Everton) etc.
Indeed, they deserve a one big standing ovation, don't they? In addition to these efforts, SportPesa has also been spotted on the repair, maintenance and improvement of sports infrastructure in the country.
It should be noted that Tanzania was recently honored by the Confederation of African Football (CAF) to host the opening match of the new African Super League tournament where the opening game will bring together the Tanzanian giant, Simba SC and Egypt's heavyweight, Al Ahly.
Earlier this year, following CAF's directive, the Government announced the commencement of the Benjamin Mkapa renovation project to improve the stadium's lighting and electrical systems, toilets and evacuation systems, IT systems, changing rooms, signage posters and billboards and many others.
Given the deepened attention that football brings to its revelers around the world, the Government of Tanzania's decision to reform the stadium infrastructure reflects on continued efforts of various stakeholders to contribute to the development of the sports sector in the country where it will be remembered that SportPesa initiated it back in 2018.
SportPesa splashed to the tune of Sh1.4 billion for such infrastructural renovation after 10 years of sports activities in the coveted stadium without any routine improvement since its inception in 2007. The upgrade covered a pitch, changing rooms for players and referees, and other important infrastructure.
For the love of the game that had to happen on SportPesa's bills. This new initiative by the Government will see as many sponsors as possible in the game because of the assurance of their investment returns, something that will continue to protect the status that our nation has recently earned of having our Premier League ranked number five in the region.
Our country still needs SportPesa to ensure that it continues to help improve the existing sports infrastructure in the country.