Yanga happy with campaign against cholera outbreaks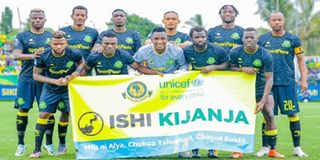 Summary
Yanga, in collaboration with the United Nations Children's Fund (UNICEF) and the Dar es Salaam Regional Commissioner's Office, launched a special campaign on healthy living against cholera
Dar es Salaam. The Young Africans (Yanga) leadership have said they feel proud to be engaged in social activities apart from their main task in football development.
Yanga, in collaboration with the United Nations Children's Fund (Unicef) and the Dar es Salaam Regional Commissioner's Office, launched a special campaign known as Ishi Kijanja on healthy living against cholera outbreaks.
The club and their two stakeholders provided education on healthy tips about cholera outbreaks in the region. The four-day campaign managed to spread awareness about diarrhea and vomiting diseases and encouraged preventive measures to protect the health of the people.
The campaign was conducted in some areas of Ilala, Ubungo, Temeke, and Kinondoni districts including Buguruni, Mwananyamala, Tandale, Mabibo, Manzese, Simu 2000, Mburahati, Mabibo, and Kigogo, whereby Yanga leaders, UNICEF, and the ministry of Health united to provide education on the said diseases.
Apart from the areas, education was also provided to the club's fans, who attended the first leg of the CAF Confederation Cup against Marumo Gallants at the Bejmamin Mkapa Stadium in Dar es Salaam.
These areas have a large number of people, and the efforts to educate them about cholera were well received. The people were happy with the efforts of the Yanga Club in reaching and educating them about their health and that of society in general.
Yanga Chief Executive Officer Andre Mtine said they are happy to continue to be connected with the communities, among whom are members and fans of the club.
Mtine said poor sanitation and personal hygiene spread the disease and encouraged people to use education for the benefit of the nation.
He said Yanga and the Dar es Salaam Regional Office are taking a proactive approach to address the situation, which, they believe, will lead to behaviourial change.
For his part, Dar es Salaam Regional Chief Medical Officer Rashid Mfaume commended the club and stakeholders for taking the initiative and called on others to follow in their footsteps.
"The cooperation with Yanga is the example of how cooperation between different stakeholders can be successful in dealing with public health challenges. We are pleased with this cooperation in increasing public awareness and education even after the end of the cholera outbreaks," said Mfaume.
Mfaume said they are expecting the campaign to reach a large group of people, including children and others who can take responsibility for keeping the environment safe and clean.
"I strongly request Yanga fans and society in general to voluntarily participate in upcoming social activities to end all the problems of water-borne diseases, improve health and environmental sanitation, and improve personal hygiene and the use of safe drinking water.
"I also express my sincere thanks to Unicef, the Dar es Salaam Regional Commissioner's Office, and Yanga's leaders for agreeing to get involved in the campaign," said Mfaume.