Yanga seeks revenge against Ihefu FC today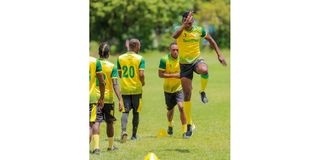 Summary
Ihefu were the only team to end the Jangwani Street heavyweights' long unbeaten run in the first round.
Dar es Salaam. Young Africans (Yanga), the defending champions, will face a challenging test against Ihefu FC today as the Mainland Tanzania NBC Premier League continues in two venues.
Azam FC will play Tanzania Prisons at the Azam Complex at 8.30 pm in addition to the Yanga-Ihefu match beginning at 6.30 pm at the Benjamin Mkapa Stadium.
The two games are predicted to be exciting, and each side is probably going to try to win in order to move up in the league standings.
Yanga are currently in first place with 50 points after 19 games, while Ihefu FC are ranked 13th in the league with 20 points after 19 games.
This game is a payback for Ihefu FC's 2-1 victory in the previous meeting, which took place at the Highland Estates in Mbeya.
According to the league standings, a win over Ihefu FC would put the Jangwani Street giants nine points ahead of Simba, who are currently in second place with 44 points after 19 games.
With their victory, Yanga will also be able to extend their advantage over third-placed Azam FC, one of the league's powerhouses with 40 points after 19 games, by 13 points.
Nesreddine Nabi, the head coach of Yanga, claimed that all of his players are in excellent enough shape.
He said players are aware of their commitment to the encounter, in which they have promised to fight hard and come out with good results.
"It is one of our important matches in the league. We need to stretch our muscles in order to win the game," said Nabi.
He said that despite their league standing, Ihefu FC are a formidable squad that should not be underrated. Yanga will rely on Fiston Mayele, their top scorer with 14 goals after 19 games, to carry them.
Ihefu FC's head coach Zuberi Katwila stated that his team is taking the match seriously in an effort to win. He claimed Yanga is opposing them fiercely.
"My players have promised to perform well and are prepared for the game. We are not in a secure position in the league standings, therefore this game is crucial for us," stated Katwila.
Their goal, according to Katwila, is to defeat one of the top football teams in the nation in a league game.
He said that only Papy Kabamba Tshishimbi and Jafari Kibaya will not be playing because they are still recovering from their ailments.