Let's cement our shared commitment to democracy through concrete action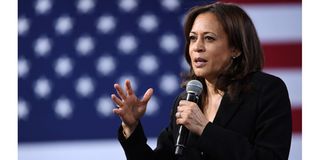 Summary
US Vice President Kamala Harris' visit is an endorsement of the return to a more democratic posture by President Samia Suluhu Hassan's government
After visiting Ghana, the United States' Vice President, Kamala Harris, is in Tanzania on the second leg of her visit to three countries in Africa. Zambia is her next and final stop on this tour. While the Vice President is advancing business and security interests, she is also here to underline and promote our "shared commitment to democracy".
"Democracy is the worst form of government, except for all the others," said Winston Churchill in November 1947. He was arguing, in Parliament, that despite its flaws and imperfections, democracy is still preferable to other forms of government that have been tried throughout history.
One of democracy's endearing, and exhausting qualities, is that it is always a work in progress. Thirty years ago in July 1992 a constitutional change was enacted that converted Tanzania into a multiparty state. It was followed by more than two decades of democratic deepening through vibrant political competition and robust public debate.
Then, for a few years in the recent past, Tanzania veered off course and flirted with a seductive but dangerous authoritarianism. Many constitutional checks on executive action and guarantees of fundamental civic freedoms were ignored, undermined or cancelled outright. The raw coercive power of the state, that had been subtly wielded, was put on full display. Fear and silence shrouded a hitherto boisterous society.
In August 2017, Tanzania withdrew from the Open Government Partnership (OGP), a global initiative of 76 countries and more than 100 local governments, working to connect citizens and their government to promote transparency, increase public participation in decision-making and fight corruption.
That unfortunate decision was made despite the significant progress made by Tanzania during the brief six-year period of the country's membership in the OGP.
For example, to fulfil its commitment to expand citizens' access to public information, Parliament passed the Access to Information Act in 2016, which requires government institutions to proactively publish information and respond to requests for information from citizens.
Working in partnership with Policy Forum, a leading civil society organisation, the Ministry of Finance created a popular citizens' budget – "Bajeti Toleo la Wananchi" – which simplifies complex budget concepts and makes it easier for citizens to understand. This document is still published to-date.
And in an invitation to citizens to monitor its performance, government built an open data portal of Tanzania's water points, which remains active, while a citizen-facing website called wananchi.go.tz was established to facilitate quick and smooth interaction between the government and citizens.
Loosening entrenched bureaucracies is tough, but through efforts such as these, the country was on the right track to putting the government more directly at the service of Tanzanians.
US Vice President's visit is an endorsement of the return to a more democratic posture by President Samia Suluhu Hassan's government. In September 2011, the United States, led by President Obama, and Rakesh Rajani, a Tanzanian citizen, were among 17 governments and civil society leaders who met at the UN General Assembly to establish the OGP.
Ms Harris' visit offers an excellent symbolic moment for Tanzania to say "yes" to the OGP's open invitation to rejoin the Partnership.
It will be an important sign of our commitment to doing the frustrating and eternally necessary work of perfecting our own democratic United Republic.