Africa's succession headaches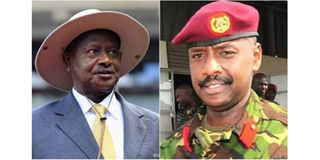 Summary
African experiences have proved that the continent can handle its transition challenges
Uganda's ever tweeting General, Muhoozi Kainerugaba, reminded his country and the region that he intends to succeed his father, President Yoweri Museveni when that time comes.
His controversial tweets on the question of succession politics in Uganda are a constant reminder of the many headaches of Africa's succession politics which is often characterized by chaos.
Chaos, from the Greek word "Khaos" to mean "gaping void" perfectly explains the continued struggles Africa has with power changing hands when incumbents die in office or where no one believes the succession plan provided through the country's constitution.
The longer the ruler stays in office, the higher the chances of madness coming after his exit from office regardless of whether he dies or not.
It is a general rule that long serving rulers avoid anointing a clear successor as a way of preventing the rise of an alternative, rival power base.
Zimbabwe's Robert Mugabe ruled for nearly for decades but as his rule entered its twilight years, it became more chaotic with potential successors accusing each other of all sorts of plots to ruin each other's chances in the succession race or worse, assassination attempts.
The same climate of unpredictability has led to the never ending reaffirmations by Gen. Muhoozi and his desire to rule Uganda after his father.
To some commentators, this is indicative of the fluid nature of the succession plan as no one mentions the occupants of offices mentioned in the constitution to inherit power in a post-Museveni Uganda.
Since 2000, seventeen Africa's leaders have died while in office. Of these, eight were long term rulers, and in most of these countries the succession was dependent on the sway of armed forces and where they placed their loyalties or even ended up taking power for themselves.
The succession stories from the D.R Congo, Togo, and Gabon to Chad point to this reality.  In Guinea, following the death of the long time ruler Lansana Conté in 2008, the military took over an empty house.
In other countries like Guinea-Bissau, leaders have terribly short life spans in office courtesy of its turbulent, violent politics. Leaders have died of assassinations or natural causes but the succession has always been influenced or outright determined by the armed forces.
Most of these cases point to countries with very weak state institutions which make it impossible to enforce any provisions of political succession as stipulated in their constitutions. Equally, this fuels corruption among the elites who are either wary of the time of the big man in office coming to an end or being unsure of who or what comes after in the occurrence of the 'gaping void'.
Some commentators believe that this state of affairs explains the inability of the state to fight corruption in countries like Uganda which is seen to be effectively in an unspoken political transition.
The longer the ruler stays, the hollow state institutions become. That is not to suggest that in African countries where leaders did not stay long enough in power it has all been smooth when the time comes for power to change hands.
Countries like Malawi and Nigeria which have experiences of incumbent presidents dying in office, required extra efforts to enforce constitutional provisions regarding political succession. In Malawi, when Bingu wa Mutharika died, there were accusations of some elites attempting to prevent the succession of his vice president who had decamped to another political party.
In Nigeria, the passing of former president Umar Yar'Adua led to calls from some sections of bypassing his deputy, a southerner and handing the presidency to another northerner.
In both cases such efforts were defeated in part, because of the vibrancy of state institutions entrusted with effecting political succession in the event an incumbent dies.
The majority of the incumbents who died while in office since 2000 in Africa were peacefully succeeded through constitutional means in countries like Zambia, Ghana, Burundi and Tanzania.
While Africa is still years, perhaps decades away from being held captive by the capricious forces in managing its political transitions, there is hope in strengthening state institutions which better equips countries to deal with power vacuums.
Experiences from the continent have shown that Africa can handle its transition headaches without them turning into deadly affairs.