EDITORIAL: Prosecute culprits in plea bargaining saga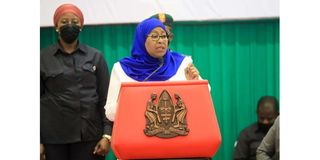 Summary
With all the information that is now public over the abuse of plea bargaining, it is time to take action
As President Samia Suluhu Hassan yesterday officiated the launch of a committee to look into the criminal justice system she expressed her dissatisfaction with rogue elements in the government who have been violating people's rights.
These officials, some of whom are responsible for dispensing justice, have tended to exploit loopholes in the system itself as they 'deal squarely' with government critics.
In doing so, as was the case with the abused plea bargaining arrangement, they have robbed innocent 'suspects' of their money and property. That is why the cash collected through plea bargaining has not yet been put to use because there is no law guiding its expenditure. Worst still, some of it can't be traced. This is not the first time for President Samia to speak about the abuse of the justice system in the country.
She has repeatedly criticized the unprofessional, illegal conduct of some police officers, the second-rate efficiency of government prosecutors that results in overflown remand prisons, and the uncreative correctional system that hardens rather than fixing criminal behavior of inmates.
We are deeply relieved that concerns over the broken criminal justice system now come from the very top of the government.
We are aware that the Controller and Auditor General has launched an investigation and that his report is expected to be made public next month.
With all the information that is now public over the abuse of plea bargaining, it is time to take action. Criminal investigation should be launched against all those involved. They could be part of a powerful and wide network of rogue officials within and without the government.
But President Hassan must act swiftly to prevent these 'culprits' from manipulating the system and tampering with evidence. Taking them to book will send a message that those who are responsible with dispensing justice are not above the law.