EDITORIAL: We still have a lot to learn from Magufuli's life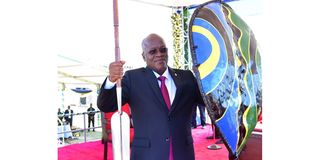 Summary
Magufuli showed Tanzanians that if we try hard enough, we can increase the degree of self-reliance
Two years on, the name of the late President John Magufuli still rings in people's ears and is felt in their hearts, for different reasons. For better or worse, Magufuli was probably the most impactful president this country has ever had, with the exception of the founding President Julius Nyerere.
And yet, as we remember him and reflect on his life here on earth, it is an opportune time to draw various lessons that could help us as individuals and as a nation to improve the lot of our people. The first lesson should be about governance and public service delivery. As a developing country, Tanzania faces many challenges, including the presence of weak institutions that cannot guarantee checks and balances.
In a situation like that, public officials can easily fall back to negligence, mediocrity, and embezzlement.
Constant wielding of the disciplinary stick to remind them of the need to fulfill their public duty with diligence and steadfastness is necessary. That is what Magufuli excelled at, although with some excesses. We should learn something useful from this experience.
National leaders must show publicly that they don't tolerate laziness and shoddy service delivery.
When this goes together with strengthening democratic institutions, it can translate into meaningful improvements in service delivery to the people.
Another key lesson is the ability to look inward for financial resources to fund national development.
There is a tendency in Tanzania and in other poorer countries to always look outside for financial resources to fund development efforts. We must state from the outset that there is nothing wrong with looking for outside financing. But this can blind side efforts to focus on developing domestic revenue sources.
Tanzania is a natural resource-rich country. These resources should be adequately harnessed to fund national development endeavours. External financing in terms of loans and grants should be, cautiously, pursued to avoid the debt trap in the long term.
Magufuli showed Tanzanians that if we try hard enough, we can increase the degree of self-reliance. What is needed is the development of the ability to supervise the exploitation of our resources.