Mandonga's showboating brings excitement to East African boxing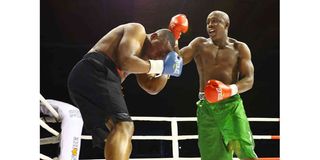 What you need to know:
His life story motivates athletes in East Africa to recognise the value of showboating and personal branding in standing out and achieving success.
In entertainment, I usually closely follow football games, especially those involving my favourite team, Simba SC. I haven't been interested in boxing games, only tuning in when a Tanzanian boxer wins. That moment is when I can watch the highlights on YouTube.
However, with the emergence of Karim Mandonga 'Mtu Kazi,' I find myself tuning in to his fights and keeping up with what is happening. In short, Mandonga has successfully captured my attention in the boxing game!
When Mandonga started fighting last year, he made headlines with his eloquent pre-match showboating and antics. Despite being seriously promoted in his initial matches, he lost the games.
However, even after the loss, his showboating made him the winner, with advertisers choosing him to showcase their brands.
In one case, he became a troll after being floored badly following his showboating, but that was just what 'Mtu Kazi' did. The loss did not put him down or shut him up.
Tanzania is, by-and-large, a football nation when it comes to sports. Yes, although there are occasionally boxers, we have never had someone with such showboating, making Mandonga a notable celebrity.
The other day, Mandonga got a chance to curtain-raise for a boxing event in Nairobi, Kenya. His showboating made headlines in Tanzania and Kenya.
Our neighbours in Kenya considered boxing a forgotten game, but they wanted to see who this Mandonga 'Mtu Kazi' was.
He promised to beat his opponent with what he called a "Sungunyo Punch" taken from the aftermath of "bombs in Ukraine." The hype generated by his promo made the organisers change their minds and make his fight the main event. Yes, finally Mandonga won against his Kenyan opponent, Daniel Wanyonyi, in their non-title super middleweight title fight.
There are a few lessons we can learn from Mandonga 'Mtu Kazi.' After being beaten last year, he showed us that it is crucial to avoid letting success or failure define you. His swagger is unusual in the sport, regardless of whether he wins or loses.
Instead, it's crucial to be resilient and keep a positive outlook when faced with difficulty. That is a great lesson, not only to boxing but to life in general.
Mandonga has proved that showboating can be an effective strategy for popularising and sparking interest in a sport. He has succeeded in grabbing the interest of spectators and the media by developing a personal brand. That has increased the excitement of his fights and drawn attention to the sport in East Africa.
Mandonga has shown that alternative sports may succeed even in a nation where football is the dominant sport. That emphasises the need for persistence and not abandoning your passion even if it may not be as popular as the others.
'Mtu Kazi' is a fantastic illustration of how to transform something from being bad into something good. Instead of letting his defeats hold him back, he was able to promote himself and his fights. Why is he well-liked? I think it is because he can take advantage of every chance that comes his way. The most valuable life lesson is to be consistently and effectively prepared so as to take advantage of chances and maximise them.
I would say Mandonga demonstrates well how showboating and personal branding can be just as significant as talent in the athletic world. His pre-match antics and showboating have allowed him to become popular and draw attention to boxing in East Africa despite losing his first two contests.
He has shown that one must invest in personal branding and self-promotion in addition to one's talents to succeed in a highly competitive world.
His life story motivates athletes in East Africa to recognise the value of showboating and personal branding in standing out and achieving success.