PF3 forms should be at hospitals to save lives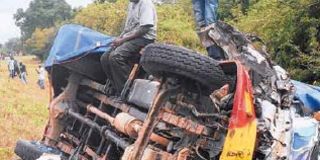 What you need to know:
One will not get treatment at government hospitals and dispensaries without the required document, even if his or her life is in danger.
For years, in the case of an accident/bodily harm in assault cases, regulations require one to report to a police station and obtain a PF3 form before proceeding to hospital.
One will not get treatment at government hospitals and dispensaries without the required document, even if his or her life is in danger.
Yet, the Tanzania Police Medical Examination form, popularly known as PF3, provided at police stations, accessing it as well as other police abstracts, is not that easy.
Again, Tanzania is such a huge country, and sometimes a police station is further away from an accident scene, than the hospital. The time spent to get the form for an accident victim could potentially lead to death. If someone had accident and bleeds so much, the time taken to get medical attention every second counts. To save lives, accident survivors need to be rushed to hospital first. The Tanzania Police Force has re-issued a warning to hospitals that they must desist from treating accident victims if they don't have PF3 forms.
The requirement is in good faith, but causes the people suffering for nothing. As much as it helps the police to fight against crime, those injured in gun fights, domestic violence, among other things, are instances of victims of road accidents that pay the ultimate price - death because it is not possible to get the forms on time.
I think this issue needs to be reformed.
The regulations should be changed so that the forms are freely accessible online and doctors should be allowed to fill them first at the hospitals and then the police should be the one to go to collect them and access the situation of the victim at the hospitals.
After all, it is the duty of the police to save lives as they maintain law and order. I think in this age and time, it would be good to be progressive and make the necessary changes, when it means saving more lives.
For hospitals, they need to engage with the Police Force for such a reform to take place. How does a doctor, who took an oath to protect and save life, feel, after sending a patient away for lack of the PF3 form? How does such a doctor react after hearing the patient died before s/he could reach the police station? This is a question of common sense that calls for immediate change. After all, for security purposes, we expect police officers to man all major hospitals and they can help for such cases after doctors have done their duty.
Just imagine an accident takes place along Shekilango Road, near Palestine Hospital. Instead of the victims being rushed inside the hospital, one should take them to the police station, several kilometres away, to get the PF3 form, and then back. For saving lives, it does not make much sense.
At the same time, the Police Force should clearly state if issuance of the form is free or should be paid for. For me I think, the vital document should be issued free. If someone has to pay anything and it's an emergency - and one does not have money, what happens?
The last time I heard former IGP Said Mwema talk about police reforms, he said the vision of the force was "to have professional, modernised and community centred force that supports maintenance of public safety and security in the country." May take today, is about community centred— in case of accident, turning away accident victims from hospitals just because of a form- that can never be pro-people. If any one of them dies for lack of medical attention, in whose hands is that blood be?