Stunning revelations from the Mpanga Kipengere Game Reserve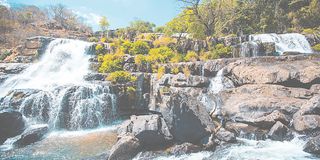 I was going through some social media the other day when I came across a rather hastily prepared press release by the Mpanga Kipengere Game Reserve, which is managed by the Tanzania Wildlife Management Authority (TAWA), that it will, next Friday on June 16, 2023, join other international bodies to mark the International Waterfall Day.
Under normal circumstances I would not have paid any attention to the news because, come to think of it, every other day is an international day marking one thing or another.
But no! This time it caught my attention because two weeks earlier I began to somehow get closely engaged in a project that had everything to do with the said reserve.
I had gone back to my roots in Njombe when I got a call from one Leonard Ngilangwa, who among others runs a youth creative artists group, the Sinai Arts Studio, at Ilembula township in Njombe region.
He wanted me to preview a film his studio and his team were producing on the Mpanga Kipengere Wildlife Reserve. To cut the whole story short, I happily agreed to assist the young men and women in the project.
In due course I was, to say the least, shocked at how little I knew about the reserve, part of which lies in my very own home region, Njombe. The reserve, established in 2002 with a total area of 1,574.25 square kilometres, and located between an attitudinal range of 1,080 metres and 2,858 above sea level, falls within three districts; Wanging'ombe and Makete in Njombe and Mbarali in Mbeya.
It consists of the majestic Kipengere, Mpanga, Lugola and Chafulwe mountains that provide scenes of beautiful green mountains, sprawling plains, dramatic valleys, and spectacular snaking rivers with 15 unique waterfalls.
The reserve's location is part of the natural features known as the Southern Highlands. Apart from its beauty it also enjoys a fare share of ethnic species including the Nosed Chameleon, Marsh Widow, Njombe Cisticola, Kipengere Seedeater, the very rare Fufumka bird as well as several migratory bird species.
The mammals therein include Greater Kudu, Common Duiker, Baboon, Steinbuck, Dik dik, Klipspringer, Senegal dwarf galapo, Otter and Vevet monkeys.
 That is apart from the legendary and spectacularly colourful wild flowers carpeting the Reserve plains and valleys.
Indeed the Reserve has an exciting biodiversity and no wonder it is also called the "African Galapagos" or the "Garden of Eden".
But it is the stunning waterfalls and the fact the legendary Hehe Chief Mkwawa spent some years there during his war with the German colonial troops, that left me spellbound.
There are 15 waterfalls within the Reserve including Kimani, Nyaugenge, Allan's, Lyamakonakusila, Ikovu, Kipengere, Merere, Mamba, Itagho and Nyalukiva. However it is the Kimani waterfall that is most stunning. It falls 250 meters high with many plunge pools below. It is as if one is watching a terraced high rise under cascading heavenly waters.
Below it, is the famous 'love pool.' It is alleged that, years back, a lady monkey accidentally fell into that pool and its male partner immediately plunged into the waters and rescued her. These days couples are encouraged to swim in there.
Nearby is the hallowing and spectacular Chief Mkwawa's residential natural cave. In there one can see where the Chief used to meet his Commanders, his sleeping corner, remains of cooking pots and stoves, stone grinding mills, and an iron smelting mound where he produced bows and arrows. He also had a private bath two stairs down to the river.
And nearby is a tragic reminder of the slave trade era. That is the place where Arab slave traders used to burn to death tired or sick slaves. Remember the famous slave route from the south as far as Malawi and Zambia used to go through here.
Meanwhile I am looking forward to finalise the Sinai Studio: Mpanga Kipengele film and perhaps even attend the International Waterfall Day.