The great debate about porn and children still rages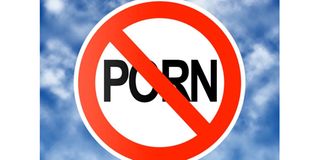 Summary
Do we in Africa also want restrictions or a total ban?
Imagine being a celebrity.
Some of us think of the cash, limelight, paparazzi, wine, dine and glamour. Fine. Celebrities get all that. But apart from their glitz and shine, they do have a duty and impact, especially when they speak out over issues that matter to us – dearly.
Two weeks ago, ex-England football-star-turned BBC soccer pundit Gary Lineker was in the news for a while. Via Twitter, he had railed against new migration laws. He is said to have equated new government regulations with Nazi discriminatory rules of the early 20th century before the Second World War.
Since what was said apparently touched on impartiality, it caused a furore. There were calls for Lineker's resignation. His weekly programme called "Match of the Day" was suspended. His BBC colleagues, also well known former footballers Ian Wright and Alan Shearer, refused to work on the suspended programme "in solidarity" and made their feelings clear.
When a celebrity lets his (or her) own opinions known, the general public pays extra attention. No wonder advertisers use famous faces to push for certain products.
In India, for example, it is said that celebrity endorsements "saw a 44 percent increase in 2021 as opposed to 2020". This is thanks to stars like 55-year-old actor Akshay Kumar, who has featured in at least 100 movies.
And speaking of cinema, we should also mention American actress Brooke Shields. Aged only 11 in 1978, she played a prostitute in a flick called Pretty Baby. Can you believe that? Now 57, she was quoted reflecting back to "that" Hollywood role. It is claimed she was just 11 when forced to seductively kiss Keith Carradine, then 27.
Decades later, she says she struggled to understand how her mother, Toni Shields, did not intervene as she revealed her own daughters, Rowan, 19 and Grier, 16, refuse to watch it.
We are living in times of children's rights and anti-sexual exploitation. Forty-three years ago, such matters were slightly different. It is claimed that Brooke Shields's mother was an alcoholic and would not have been able to "intervene".
It has to do with parenting, family values and good upbringing of children.
The topic has been in the news because a celebrity brought it to our attention. An extra shove. Extra gears. And it is not just athletes and actresses.
The well known TV presenter, Natasha Kaplinsky, was in the limelight a few days ago, Monday to be exact. She was also talking about and defending children.
She was quoted by reporter Alistair Lockhart calling for "tougher laws" to protect children from "harms of online pornography". She insisted that watching these films promotes interest in abusive relationships.
Over a month ago, the same issue came up in Tanzania. Here is what The Citizen wrote: "The government through the Tanzanian Communications Regulatory Authority (TCRA) ... has increased funding in order to further tighten restrictions on the access of content that is considered immoral and against Tanzanian ideals, such as pornography."
Mr Nape Nnauye, Minister for Information, Communications and Information Technology was photographed addressing Parliament.
The story said Mr Nnauye was replying a question from a legislator "who wanted to know steps being taken to block rampant pornography".
There is a general agreement globally that pornographic materials are too readily available online. This is alright if it were strictly for adults as far as freedom of choice is concerned. However, the freedom has overflowed and lurched onto children.
Listen to Ms Kaplinsky (currently President of the British Board of Film Classification) speaking to London's Sunday Telegraph, "...as a mother of two teenagers, I have seen first hand the constant bombardment of online content that children today are forced to navigate, including material that in a sane world would be restricted to adults only."
Which leads to governments.
Both Mr Nnauye in Tanzania and Ms Kaplinsky cited parliament in their settings. Mr Nnauye was replying to a legislator who wanted to know what steps were being taken to stamp out this problem. Ms Kaplinsky cited a recent UK parliamentary report which said illegal porn with violent scenes of rape, sexual violence and incest was easily available and accessible online.
While the Tanzania Communications Regulatory Authority (TCRA) has pledged to increase more funding to tighten restrictions, Ms Kaplinsky has called for ministers (i.e. the Government) to impose stricter age verification checks.
Pornography and sex remain big money – huge business. Who benefits? Who cares for the consequences?
Our European pals do not want a total ban. They want restrictions. Do we in Africa also want restrictions or a total ban?
Both sides of the world are pushing, watching and waiting for governments to act and make a bold stand.