World Toilet Day: Revolution in safe toilets and Tanzania achievement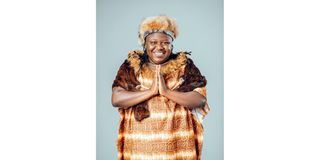 What you need to know:
In event of the World Toilet Day commemorated globally on 19th November, annually, The Citizen interviewed an edu-entertainment artist Mrisho Mpoto who shares insights about his ambassadorial role in championing the "Nyumba ni Choo" nationwide campaign aimed at mobilising Tanzania citizens to have and use safe toilets and address the challenge facing the global community reported by the United Nations that while 3.5 billion people lived without safe toilets, 419 million others practiced open defecation
Mrisho may we get to know you?
I am Mrisho Mpoto, equally known as 'Mjomba." I am an award winning poet and an edu-entertainer, blending my message with artistic performances of music and poetry.
Ninety eight percent of my work is education, while two percent is entertainment.
I love education. I have devoted years of my life to giving people knowledge and improving their lives. I am a founder of Mpoto Theatre Gallery Limited.
What was your motivation for edu-entertainment?
My motivation was the shock I got when global news and researchers continuously showed how backward we were as a country.
I resolved to do something. I teared up when World Bank reports said more than 2 billion people globally do not have adequate toilets, and more than one billion defecate in the open.
Tanzanian figures were high also. Then it was 5.4 million people with no access to toilet facilities.
Global committees in such matters predicted that maybe Tanzania will hit the safe toilets target by the year 2030.
However, in 2017 the Vice President, (currently President), Samia Suluhu Hassan said it was gravely embarrassing to be given 10 years to accomplish that task.
Given the qualities of toilets the World Health Organization prescribed as safe toilets, it was shameful that it will take us 10 years to build a toilet that will cost Sh75,000 in the villages, and Sh200,000 in urban areas; a toilet with good flooring, firm walls, roof, door, ventilation, cover, and with access to water. This embarrassment motivated me to begin sensitization and educative campaigns.
Tell us about 'Nyumba ni Choo' campaign
In 'Nyumba ni Choo' campaign (literally signifying that a home is incomplete without a safe toilet), we were able to visit twice all the 184 local councils in the country.
I would attest, it was an eye-opener for many, and a great success in transforming conservative cultural worldviews which linked cultural practices, gender, and family relationships with sanitation and use of toilets. It was an opportunity to learn for us too.
The first phase of the campaign was to get people to build toilets. The second phase was dubbed: "Usafi ni Ustaarabu, unaanza na wewe" meaning 'Sanitation is a mark of civilization, it begins with you.'
Here sensitization was in-depth and building of safe toilets was made to signify pride and status.
Citizens went on motivating themselves as we highlighted the vanity of one person having a toilet while neighbour did not have one.
Flies from unsafe surroundings will still perch around the homes and spread diseases. Some families had their toilets locked, and would give keys to whoever requested.
The third phase emphasized in durability and safety of the toilets, that in extreme weather they are not destroyed by rains, winds or floods. It was a recommendation that toilets have access to water and soap for sanitation.
What challenges did you face in the campaign?
The leading challenge was the cultural barrier. In some regions it was difficult to convince people that the entire family, including in-laws can share a toilet.
Especially with pit latrines, fear was raised in some cultures that an in-law would see what the father-in law has deposited.
This made the ministry to re-strategize and come up with a chamber toilet as an alternative, with just a sink, and a pipe connecting it with the pit dug away from it.
It also sounded illogical to some people, as they took toilet wastes as dirt which should not stay just 10 metres away from the house.
It was better far away in the bush. Worse still, some built toilets under pressure; therefore to avoid being fined, they erected just show-off toilets with no pit. These were built to please health inspectors, and were known as 'Choo cha Afisa Afya.'
The problem of not having toilets was largely not the money, but the mind-set. Some conservative cultural group remained adamant and unconcerned, comfortably ready to pay the fines than build themselves toilets.
In some cultures defecating in the front yard of the house was a sign of wealth and was used to attract spouses for marriage. It was a sign that a family eats healthy meals and does not lack food.
It was also not easy to convince the polygamous cultural groups that several wives and their children can share one toilet.
We also had a challenge to find suitable time in the media to speak about these matters, some people found it disgusting to talk about toilets and sanitation in radio or TV at lunch and supper times.
Also, the attendance of men in our gatherings/talks about toilets was minimal, even when they are not going to work.
What strategies did your team utilize?
As I mentioned earlier, I combine education and entertainment.
Then, we used our various artistic talents to put the message across. We secretly surveyed the villages beforehand to know the leaders and people with convincing power and good reputation who would help us achieve goals of our advocacy.
We started our programmes by building on bonds of and appreciating what had been done already.
We also used the 'flag technique' whereby the percentage of houses with toilets will make the flag at the village centre be raised higher, while lower percentages will bring it lower, and no toilets at all will give them a red flag.
Other development projects, as we taught them, depended so much on the necessary changes we proposed. This worked very well.
People were in no time calling us to go back for inspection and raise their flags higher and allow development projects as they had done what we recommended.
In a case where an elderly or disabled person could not build a toilet, we mobilized the youth to help. The youth were very responsive.
Do you recount any success in the programme?
Yes I do, and it is very fulfilling that lives of Tanzanians have improved. At the close of 'Nyumba ni Choo' campaign 76pc of homes were classed as having safe toilets meeting WHO standards, and more than 90pc had toilets for use domestically. The campaign helped to get rid of outbreaks of diseases, and the level of health awareness increased substantially, and washing hands with soap and running water became more common.
This knowledge I believe helped when Covid-19 came.
What are your final remarks?
I appreciate Tanzanians for receiving amicably the sensitization we brought. There is massive improvement.
We are all responsible for safeguarding our lives. We can succeed if we hold hands together and accept change and challenge.