Real estate 'can play key role in Zanzibar economy'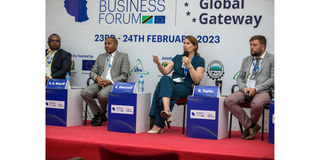 Summary
The chief operations officer for CPS Zanzibar, Ms Katrin Dietzold, illustrated the opportunities of a supportive housing policy to unlock the real estate sector's enormous potential in Zanzibar
Dar es Salaam. The real estate industry in Zanzibar can significantly impact the economy and societies, a senior official with a company that specializes in supplying technical construction solutions, has said, calling upon the adoption of a conducive housing policy.
Giving her insights during the just-ended recent EU-Tanzania Business Forum 2023 in Dar es Salaam, the chief operations officer for CPS Zanzibar, Ms Katrin Dietzold, illustrated the opportunities of a supportive housing policy to unlock the real estate sector's enormous potential in Zanzibar and offer the rapidly growing population a good home.
Sharing her experiences with pioneering areas of the real estate industry in Zanzibar, Ms Dietzold stressed that the government and the market need innovative developers who are ready to meet the challenges posed by new construction technologies.
"Industry players should approach Zanzibar with a clear goal but flexibility along the way. Patience, resilience and humility are required for success," she said.
Katrin highlighted the benefits of working in Zanzibar, noting that the government is approachable and the environment more manageable than much of Tanzania. She encouraged other developers to look to Zanzibar as fertile ground for growth and expansion, with endless opportunities for those up to the challenge.
CPS Zanzibar is currently developing Fumba Town project.
So far, Fumba Town ranks as one of the Tanzania's fastest-selling real estate development projects, with over 1000 homes already sold.
Fumba Town offers discerning homeowners worldwide the space to live, work and develop in a safe, sustainable, multinational, multicultural and intergenerational environment. The iconic city already hosts shoppers from over 50 countries, underscoring its strong global appeal.