How to make the most of investments in Zanzibar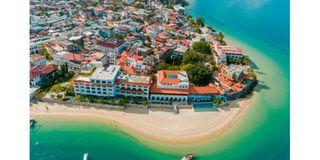 Summary
For Zanzibar, investment and the resurgence of tourism income has been a boon, what is needed now is to figure out how to make the most of these for the benefit of every resident on the
Dar es Salaam. Economists have advised Zanzibaris to make the most of the current investment influx, whilst there still is a need for the government to create a level playing field for local and foreign businesses.
According to the President's Office, Labour, Economy and Investments, so far the archipelago has registered 215 projects worth $3.3 billion (Sh7.6 trillion) during the first two years of President Hussein Mwinyi's term.
This, according to the isle's government, is expected to deliver 13,000 jobs to the Zanzibaris.
At the same time, economists who spoke to The Citizen have urged that one thing is certain for Zanzibaris to ensure that the investment is inclusive.
This they say means that the benefits should not just be limited to large businesses, but should also be shared by small and medium-sized enterprises as well as individual citizens.
Senior consultant and economist, Prof Samuel Wangwe said the investment incoming will have a trickle-down effect on the economy first in the form of foreign exchange.
"However, the design and framework should consider prioritising the local content, joint ventures, and partnerships so as to have the locals as involved in this growth," he said.
Prof Wangwe said it is also for Zanzibaris to research and identify the needs and what is in demand from the investors, so as to create and produce products and/or services that align with those opportunities.
His views also complement that of fellow erudite Prof Humphrey Moshi who agreed that the influx of investment is, to a large part, equivalent to an improved economy.
He said while it will foster more improvement in business, entrepreneurship, and job creation; these investments create a tax collection source, allowing the government to fund its budget.
"The investment is also likely to spur development in the region, as infrastructure projects and other initiatives are funded and implemented. This will have an impact on single Zanzibaris," he said.
The isle is also coming back to its commercial era, as the main economic activity of tourism rebounded from its pre-Covid-19 glory.
According to the Tourism Statistical Release No 73, Zanzibar recorded 548,503 arrivals in 2022, compared to 538,264 that were recorded in 2019.
The report which was prepared by the Office of Chief Government Statistician in collaboration with the Zanzibar Commission for Tourism and the Immigration department points towards a brighter future with January 2023 reaching record numbers.
According to the release, Zanzibar recorded 68,813 international visitors in January 2023, with tourists arriving from Italy surpassing Poland and Ukraine as the top two countries.
This represents a 62.1 percent increase over the 42,443 visitors recorded in January 2022 and an increase of 3.1 percent over the 66,720 visitors recorded in December 2022, according to the report.