Let the BLUE sky be the limit for Zanzibar and its people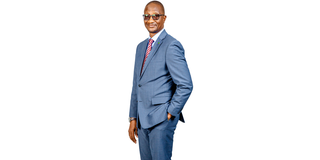 LinkedIn: Bakari S Machumu
236 years ago, US President Thomas Jefferson, in a letter to Edward Carrington, wrote that given a choice, he would prefer "newspapers without a government" over "a government without newspapers."
A free press is critical to development. Former UK Minister of State Jeremy Browne summed it up best during a tour of Vietnam in 2011, when he described media as "fundamental to political life."
"(Media) provides criticism and debate to ensure that information is tested and examined from all points of view."
As we begin to count down to 60 years of the Zanzibar Revolution, celebrated on January 12, we must reflect on the function of THE media in the development of Zanzibar.
Our role is to create conversations on themes of economic development and progress—a discipline known as development journalism. That is how we uncover, with our readers, future possibilities.
Benjamin W. Mkapa, famed former President of Tanzania, believed government must prove its impact.
"The citizenry must know that you are working on their interests, though that shouldn't be used as promotional," he wrote in his memoir, My Life, My Purpose: A Tanzanian President Remembers.
Mwananchi Communications Limited (MCL) believes in empowering Zanzibar and Zanzibaris to win big. That journey starts with awareness.
You cannot question intelligently what you do not know. You cannot build 60 years into the future if you do not interrogate your present.
Journalism has evolved greatly, but our goal remains steadfast: citizens require information to make decisions, and we can improve on providing access to that information.
At MCL, our commitment to Zanzibar is intentional, wide-spread, and long-term. Our journalism is far-reaching and life-changing.
Today, our coverage is the broadest it has ever been, with daily Zanzibar pages and dedicated digital verticals across all our flagship publications – Mwananchi, The Citizen, and Mwanaspoti.
Our most recent campaign, #MwinyiAtThree, assessed achievements, opportunities, and challenges in three years of the Presidency of Dr Hussein Ali Mwinyi, culminating in our first-ever Mwananchi Thought Leadership Forum (MTLF) in Zanzibar.
We plan to continue to widen our footprint in Zanzibar and amplify the Zanzibar story on Mainland Tanzania, in East Africa, and across the broader African continent and the world at large.
We are Tanzania's largest print and digital content network. We also run one of the fastest-growing delivery services and are famed contract printers.
Our Mwananchi Digital portfolio spans multiple websites, 17+ social media channels, digital news apps like EGazeti and Nation ePaper, and professional platforms like Rising Woman Online.
Our reach and engagement solutions are innovative and come in various formats, from print and digital ad banners to native advertising, sponsored storytelling, audio and video streaming, and events journalism through MTLFs, The Citizen's Rising Woman, MSME Summits, and Investor Tradeshows.
Habari Hub – a media innovation and incubation centre, is the first of its kind in Tanzania. We are excited when we imagine the possibilities.
Our footprint is 25 million people! That is tremendous visibility for our clients and partners in public, private, and civil sectors. That is engagement. That is the power of MCL.
That is what we will do for Zanzibar and Zanzibaris as we count down to 60 years of the Revolution.  We will tell deep stories of where we came from, what we overcame, and celebrate our successes.
With our partners, Zanzibar Broadcasting Corporation (ZBC), we shall create profound media: from news content to events to documentaries.
We will gaze into the future and anticipate the next 60 years. We will shape an informed Zanzibar citizenry that seizes opportunities and holds power to account for the greater good.
Others say the sky is the limit. We, at MCL, say the sky is BLUE—as BLUE as Zanzibar's BLUE economy.
As Zanzibar takes off, MCL will be there, facilitating, engaging, conversing, and empowering across the spectrum.
That would be, in the words of Nobel Prize winner Wangari Maathai, our little thing to empower the nation and change the lives of our Zanzibar community.
Let the BLUE sky be the limit for Zanzibar and its people!