MS Zuiderdam docks in Zanzibar with 1500 visitors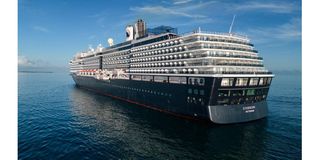 Unguja. Cruise ship MS Zuiderdam Rotterdam has on Tuesday, November 14 docked in Zanzibar with over 1500 tourists making it the biggest ship of its kind to come to Zanzibar.
According to information available the 781 crew and 1500 guests on Zuiderdam will spend the entire Wednesday in the Spice Islands before the ship departs at 1800Hrs.
Zuiderdam is scheduled to head to Mayotte, after Zanzibar. She will depart from Zanzibar on November 15, 2023 and arrive in Mayotte on November 16, 2023.
MS Zuiderdam is a Vista-class cruise ship owned and operated by Holland America Line (HAL). It is the lead ship of the Vista-class vessels, so named for the extensive use of glass in their superstructure, and is sister to three other HAL ships, Oosterdam, Westerdam, and Noordam.
MS Zuiderdam was built by Fincantieri in Marghera, Italy, and was launched on November 21, 2000. She was delivered to HAL on January 9, 2002, and entered service on February 2, 2002.
The ship is 926 feet (282.2 m) long, 105.8 feet (32.3 m) wide, and has a draft of 26 feet (7.9 m). She has a gross tonnage of 81,769 GT and can carry up to 1,924 passengers and 800 crew members.
MS Zuiderdam is equipped with a variety of amenities and facilities, including, 11 restaurants and cafes, 10 bars and lounges, a casino, a spa and fitness center, a swimming pool and four whirlpools, a library, a theater and a nightclub
The ship also has  a children's play area, a jogging track and a sports deck.
MS Zuiderdam offers a variety of cruises throughout the year, including cruises to the Caribbean, Alaska, Europe, and South America. The ship is known for its elegant design, comfortable accommodations, and excellent service.