Mwinyi vows to unlock horticulture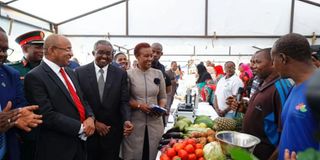 Summary
President Mwinyi said plans were underway to create a horticulture logistic centre with an ultra-modern cold storage facility for perishables destined for external markets
Zanzibar. Zanzibar's President Hussein Ali Mwinyi has unveiled a package of steps to boost horticulture growth in the Isles to satisfy its domestic and export markets.
Inaugurating the horticultural knowledge hub in Zanzibar Dr Mwinyi said his administration would improve key infrastructures, business-enabling environment and extension services provision to spur the industry.
Taha built the hub through EU and Finlad-FFD financial support.
"Horticulture is one of the priority industries, owing to its great importance to our economy. Our priority is to create a conducive business environment, enhance productivity, facilitate access to markets, construct infrastructures for irrigation and markets, ease information access, research and improve extension services provision" he said.
President Mwinyi said plans were underway to create a horticulture logistic centre with an ultra-modern cold storage facility for perishables destined for external markets at the Abeid Amani Karume International Airport.
Creation of green belt in order to have a special window for perishable export handling at key Zanzibar ports in order to fast track the clearance of fresh products, is among the steps to be taken, he noted. Dr Mwinyi also threw his weight in an issue of Zanzibar horticulture development strategy, directing the Ministry of agriculture to fast track the document to spearhead the mission of transforming the industry in the Isles.
He said that 90 percent of the horticulture crops were actually consumed locally by the 1.9 million population and the 600 hotels that cater for 0.5 million tourists visiting Zanzibar annually, thus offering the huge market opportunity for horticulture.
"For instance, the demand for vegetables and fruits per annum in Zanzibar stands at 276,000 metric tonnes for each resident to consume 146kg as per the World Health Organization (WHO) and Food and Agriculture Organization (FAO)'s recommendation per year," he said.
He commended Taha for its role in developing the horticulture industry in Zanzibar for over a decade.
"Taha's contribution in women and youth employment, improved income for small-scale farmers, nutrition and the economy at large deserve appreciation," Dr Mwinyi said. He said the support from the EU, FFD and TRIAS Belgium would leave behind a significant footprint into Zanzibar horticulture industry.
Taha board chairman, Mr Zebadiah Moshi was grateful to the Zanzibar government for according his organization health cooperation since its inception in 2012, making it easier to unleash the horticulture potential.
"It's our commitment to cherish our valued partnership with the Zanzibar government in order to realize huge horticulture development in Zanzibar together" said Mr Moshi.
Taha's chief executive officer, Ms Jacqueline Mkindi, said that her organization has been cooperating with various local and internal players in taking the Zanzibar horticultural industry to the next level.
As a result, increased production of horticultural crops has reduced net import of fruits, vegetables, tubers and spices from 80 per cent in 2014 to 26 percent in 2021 in the country.
During the period under review, Taha also managed to link 8,000 horticultural farmers to market opportunities in and outside the country through market information systems and contract farming.
Taha has constructed horticultural crops collection centres as well as water wells for both irrigation and domestic consumption at Mpapa and Muwanda areas. It has also built a cold room at Mpapa for preserving perishable horticultural crops. The organization in collaboration with AHA trained over 2,500 horticultural farmers in entrepreneurial and financial skills for them to qualify for securing loans. Over 10,000 other farmers have been trained in good horticultural practices, with 500 of them linked to financial services and Sh2.5 billion worth loans have been extended to them.