Students from wealthy families have higher skills: study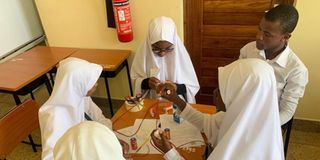 What you need to know:
The study found that adolescents from wealthier households were more proficient, scoring an average of 20 percent compared to 13 percent of those from low-income families
Dar es Salaam. Children from wealthier families in Zanzibar have higher capabilities in education and life skills than those from low-income households, a new study suggests.
The results come as the government is reviewing its education policy as it seeks to improve skills among graduates of different levels of education.
Dubbed Assessment of Life Skills and Values in East Africa (Alive), the study was conducted by the Milele Zanzibar Foundation in all 11 districts of Zanzibar in April 2022.
A total of 2,447 adolescents aged 13–17 years were evaluated from 1,942 households through a one-on-one assessment that was administered orally in Kiswahili. The adolescents worked in groups of four, with a scoring rubric to measure their skills and performance on tasks.
The study found that adolescents from wealthier households were more proficient, scoring an average of 20 percent compared to 13 percent of those from low-income families.
Commenting about the study, an education and policy consultant, Dr Godfrey Teli, supported the findings, urging parents to get close to their children to nurture their talents and abilities.
"Income enables families to have their necessary needs met, and that has an impact on performance. Children from wealthy families would have breakfast before going to school, have lunch at school, get text books, and other stuff. That's why their children become more competent," he said.
He added that even if a school has all the requirements, including good infrastructure, desks, and books for pupils, children from poor families will struggle to perform better at school.
"You never know where the children live at home. Some are not adequately fed, and others come from violent families where the father and mother fight each other," he added.
"If the brain of a child is affected at a young age, it will be hard to be rehabilitated when he reaches maturity," he added. The study says older adolescents are more proficient than their younger counterparts, while those with secondary education are also better than those with primary education.
The study also suggests that adolescents from wealthier households were more proficient in self-awareness compared with those from poor families.
In terms of respect, the study found that around 16 percent of adolescents demonstrated great respect.
"The majority are able to identify and interpret the lack of respect for others and may take conciliatory steps to resolve situations, but may not demonstrate respect for others or act in defence of others or themselves," the study said.
According to the report, older adolescents demonstrated higher respect than the younger ones.
Nearly 18 percent of adolescents are proficient in participation. Collaboration was examined by being attentive to the discussion by speaking or through action, querying the views of others, contributing in word or action, contributing ideas, prompting others, and being attentive to others' inputs.
In terms of reading proficiency, the study found that 26 percent of the adolescents aged 13–17 can read Kiswahili fluently, while 17 percent cannot read a Grade 4 textbook in Kiswahili. "In general, adolescents with higher literacy levels have higher levels of problem-solving and respect," the study finds.
In internet uses, the study suggests that 3 in 10 adolescents can get onto the internet with ease while 27 percent can do it with difficulty. It was also found that 43 percent are not familiar with the internet at all while 15 percent are regular users of computers, tablets, and smartphones.