This is why people don't exercise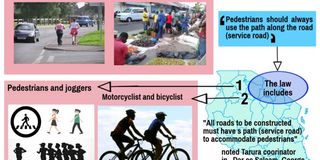 Summary
And section 65 (4) says they are supposed to walk on the right side of the road where there are no pavements or road borders.

Dar es Salaam. The Road Traffic Act Section 65 (3) of 1973 gives pedestrians the right of using roads as it stipulates that pedestrians have the right of using pavements and road borders.
And section 65 (4) says they are supposed to walk on the right side of the road where there are no pavements or road borders.
The above section concerns cart pushers, motor bike riders and cyclists.
Despite the pedestrians having the right of using roads, a shoe string budget has caused many roads to be constructed without pavements, something which puts pedestrians lives at risk and discourages them from exercising.
Besides, many roads in urban areas have been invaded by petty traders, thus rendering it impossible for the public to exercise.
According to the Tanzania Roads Agency (Tanroads) website, there is a total of 12,207.6 kilometres of trunk roads, out of which, 7,291.2km have been tarmacked.
Tanroads Dar es Salaam regional manager Julius Ndyamukama says all trunk roads in the region have been constructed with pavements, adding that accommodate motor cyclists, cyclists and cart pushers.
"Whenever we construct our roads, we also consider pedestrians. Our roads have enough spaces for people to jog," he said, naming the roads as Bibi Titi, Sam Nujoma, Mandela, Pugu and Nyerere.
"The problem is that traders have invaded all the spaces which could be used for exercises. For example, look how people invaded the CBE (College of Business Education) area! Our task is to construct roads, but how they are used, depends on decisions from regional commissioners and city fathers," he says.
Speaking about their future plans, Mr Ndyamukama says they are intending to reconstruct Pugu Road for rapid buses and other roads depending on phases of the project.
On the issue of road encroachment, Dar es Salaam City director Spora Liana says they have already directed all municipalities to kick out all road invaders.
For his part, Kinondoni Municipal Spokesman Sebastian Mhowera says all the invaded road areas in Kinondoni were vacated for evening markets following a directive given by President John Magufuli.
Ilala Municipal Spokesman Tabu Shaibu says that the municipality has already allocated special areas for petty traders, which include Congo, Nyamwezi, Mkunguni, Tandamti, Aggrey and Mchikichini streets.
However, he said there were some traders invading road pavements contrary to the law.
"There are still food vendors and unregistered garages operating on the road pavements. Those are the ones we want to kick out," says Shaibu.
He adds that the municipality has enough open space areas for people to take their exercises. They include Mnazi Mmoja, Kidongo Chekundu and primary and secondary schools grounds.
The Tanzania Rural Roads Agency (Tarura) says insufficient budget over the years has prevented them from allocating enough areas for people to take physical exercises.
Dar es Salaam Region's Tarura coordinator, Eng George Tarimo explains that despite constructing many roads in the region, shoestring budgets have been a hindrance to them to attain intended goals.
"Every road that we construct must include pavements. For instance, the CCBRT, Tegeta Nyuki, Max Suba and Shimboni roads, all have pavements," says.
Eng Tarimo added: "Whenever we plan, we consider the available budget because we have many roads to construct and the money is always insufficient."
He explains that many roads have been destroyed during the rainy season as contractors awaited rains to stop.
"For now we are implementing the 2017/18 budget. We have city contractors, who stopped working because of rains. However, they will resume renovation work after the rainy season," he said.
According to him, in the budget, 90 per cent of roads would be renovated.
Speaking over the effects of the shoestring budgets, Tarura coordinator based in Arusha, Eng Edward Anthony, says construction of some roads has not been completed according to plan.
"Budget has been a big problem. What we do now is to meet the conditions required including constructing pavements even though we know that they will not be completed," he says.
He gave the example of the Karatu Road, saying its construction should have been of a 1 kilometre length, but they had run our of money after 600 metres.
"Even the Longiro Road ought to be 1km long, but we ended up at 700 metres. We have also constructed the Themi Road, which is 4.3km long, but there many things still missing according to the contract," says Anthony.
The real picture of flimsy budgets can be seen in Tabora Region, where Eng Erick Chenga says supervise construction a total of 7800km of roads.
"So far we have already constructed 1,000km of roads at the gravel level and 42km at the paved level. We expect to get cash from the roads fund so that we can use for road construction," he says.
He says 1000 km of the tarmacked roads they have so far constructed have no pavements.
"The constructed road needs to have service roads, but they are normally constructed in urban areas. Those 7800kms of roads have not been constructed, but what we do is only repairs, according to the available budget," he says.
Speaking over the challenge of areas of doing exercises, Dr Fredrick Mashili from Muhimbili University of Health and Allied Sciences says due to studies they carried out and ongoing studies, frisky environments have discouraged people from doing physical exercises.
"The findings of various studies in the world show that uncongested roads attract a big number of people doing physical exercises compared to densely populated areas," he said.
"We have discovered that problem and currently we are carrying out our study in groups of pedestrians, cyclists, motor cyclists and motorists," said Dr Mashili.
who added that the study would take two years to completely be carried out as they had already spent three months.
"In a nutshell we have got these findings after conducting studies on motor cyclists that think that traffic regulations do not involve them and the problem is even traffic police do not bother to care about that. It is something that seems to be minor, but it has caused many people to have accidents and endanger the lives of pedestrians and those doing physical exercises," said Dr Mashili.
He also said some people were feeling shy to ride on their bicycles to work as part of doing exercises in fear of being seen as those from the bush.
"However, that problem can be avoided, if there will be dressing rooms when they reach at work. So, a person feels that when he sweats, he cannot enter the office," he explained.
"Things are quite different in Europe, where they now stop using vehicles and motor cycles and instead they use bicycles. For example, in Denmark and The Netherlands 70 percent of their peoples use bicycles to work and school and their office environments allow dressing rooms. But in our country there are no such things," he added.