Swedish firm relocates Sh5tr wind power project to Tanzania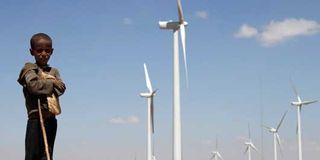 What you need to know:
The wind farm in the Kenyan coastal town of Malindi would have been the largest in Africa, costing Ksh253 billion (Sh5.3 trillion).
Dar es Salaam. A Swedish firm has relocated a proposed Sh5.3 trillion wind power project to Tanzania from Kenya, citing frustration by Kenyan authorities.
The wind farm in the Kenyan coastal town of Malindi would have been the largest in Africa, costing Ksh253 billion (Sh5.3 trillion).
According to Kenya's Business Daily, VR Holding AB had last year expressed interest in building a 600MW wind farm in the Indian Ocean waters bordering Ras Ngomeni in Malindi, but Kenya's Ministry of Energy officials turned down the request, citing lack of a framework for renewable energy projects of that scale besides low demand for electricity in the country.
The firm's executives said they had opted for investment in Tanzania, which shares the Indian Ocean coastline with Kenya.
"We have opted to look at offshore solutions for Tanzania," Ms Victoria Rikede, an executive at the company, said.
However, the acting Commissioner for Energy and Petroleum Affairs, Mr Innocent Luoga, told The Citizen yesterday that the investors had yet to officially communicate with his office.
"When it happens, I am sure they will most definitely approach Tanesco (Tanzania Electric Supply Company), who will in turn inform us (the government) to plan a meeting," he said.
Kenya, East Africa's largest economy, has in recent years losing mega investments to Tanzania, including a crude pipeline deal with Uganda.
Earlier this week, Kenya's Ministry of Energy reckoned that such a huge power plant would leave them paying billions of shillings annually for electricity not used.
This would dim the government's quest to deliver cheaper power through renewable sources.
Documents seen by Business Daily show that Kenyan authorities, upon receiving the application, had directed the Swedish company to construct a smaller project.
"The company was to give us a proposal for a smaller capacity plant of 50 megawatts. They are yet to do so," said Mr Isaac Kiva, the director of renewable energy at the ministry.
The Malindi offshore location was identified by the World Bank, according to the Swedish firm's executives.
Ms Rikede, however, did not wish to disclose the consortium behind the inconclusive venture.
In rejecting the mega power plant, the ministry vouched for a phased implementation that brings power on stream gradually, in tandem with growth in demand. "Wind is an intermittent power source and, therefore, we cannot approve such a big plant in one location since it will come with huge costs tied to power supply reliability and transmission," Mr Kiva had said earlier.
It provides only for small and medium-sized projects under the feed-in-tariff (FiT) system, which fixes electricity prices for wind and solar projects of up to 50 megawatts
The only project outside this limited framework is the 310-megawatt Lake Turkana Wind Power in northern Kenya.
But despite being completed electricity is not used due to lack of a transmission line.
Offshore wind farms are deemed more reliable than those built on land since breezes in the ocean can produce steadier power. Kenya has an installed power capacity of 2,330 megawatts but its peak demand is about 1,699 megawatts, leaving a reserve capacity of 631 megawatts.