Teacher-student ratio still a concern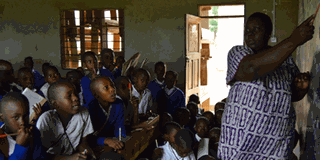 What you need to know:
A huge disparity in the work force between urban and rural schools also exposes the divide that continues to bedevil the less privileged, who are the target of the government's free universal primary education.

Dar es Salaam. Government data shows that primary school teachers in parts of Tanzania attend to as much as 180 pupils in a single classroom, a pointer to how shortage of teachers is undermining plans to deliver quality education to millions of free-school learners.
A huge disparity in the work force between urban and rural schools also exposes the divide that continues to bedevil the less privileged, who are the target of the government's free universal primary education.
The prevailing shortage of teachers and classrooms across the country, especially in the public sector, will heavily dent quality delivery of learning even as authorities tout enrolment successes of free learning policy.
Going by the data compiled by the President's Office- Regional Authority and local government (PO-RALG) by December 2016, there was a shortage of 47,151 teachers in primary schools across the country. This shortage means teachers in most primary schools manage a class of more than the PO-RALG standard of 40 pupils per teacher ratio (PTR -1:40).
According to the data posted on Tanzania's open data website, as of July 2018, 65.9 per cent of 17,352 schools, surpassed the 1:40 PTR standard ratio for primary schools.
If the ratio of 45 pupils per teacher, which is often proposed by stakeholders, is considered, some 9,600 primary schools in the country will fall in the disadvantaged bracket.
The data continue to show that about 3.7 per cent of the schools are worse with one teacher teaching at least 100 pupils.
The situation gets even grimmer as the data indicates that 10 government schools have one teacher teaching 200 students in a single class. Kasulu District, in Kigoma Region leads with three of these schools namely Heru-Ushingo, Kitanga and Nyanzaza.
Other schools are Namalandula (Geita), Ilalanguru (Songwe), Ugalla (Katavi), Lomwe (Tanga), Igunguli (Tabora), Isanzu (Mwanza) and Songambele School in Simiyu.
Non-governmental schools have the best posting, with seven out of 10 schools maintaining the required standard ration.
Among the best staffed privately owned schools are Ebenezer, Brother Martin and Sendeu, all based in Dodoma, Patmos Island and Nyahiri Memorial Schools (Arusha), St. Nicolaus (Ruvuma) and Malen (Dar es Salaam).
The only public schools with the best ration are Simba Vision (Arusha), Irente (Tanga) and Wami Vijana (Morogoro).
On average, countrywide, the pupil-teacher ratio stands at 1:51 and of the 26 cited regions, only three have a pupil teacher ratio below the national average.
They include, with the number of teachers in brackets, Dar es Salaam (31), Arusha (33) and Kilimanjaro (34).
The rest of the regions are grappling with the teacher- shortage problem as a higher pupil enrolment means classrooms are ever bulging.
From the data, 16 regions have 50 pupils in one class while four regions have over 60 pupils. The four regions are Katavi (66), Kigoma (66), Simiyu (61) and Singida (61). At least 120 districts have a PTR of above 45 while 38 districts have a PTR of above 60 and nine have the worst PTR of around 70.
But, Kasulu district in Kigoma has a PTR average of 102, making it the worst area as far ad PTR is concerned.
Situation in those schools
The head teacher of Mbweni Primary School in Dar es Salaam, Mr Moses Amani, says shortage of classrooms also complicates the situation even for schools with enough teachers.
His own school suffers because of the shortage of space. With a pupil-teacher ratio of 44, Mbweni still has its classes flooding with up to 180 pupils in one classroom. The school has 962 students with 22 teachers only.
Mr Amani says 180 standard three pupils, 115 standard six pupils and 117 standard seven pupils 117 are taught in a single classroom.
This cramming of classrooms, he says, affects learning and eventually compromises the pupils performance.
"Our academic performance was adversely affected by the shortage of classrooms. Our pupils were ranked 92nd in the 2017 Primary School examinations (PSLE) out of 96 schools in Kinondoni district," he said.
With an average score of 126 marks out of a possible 350 marks, Mbweni came at position 362 in Dar es Salaam which has 433 schools while it was ranked 3734 out of 9736 nationally.
Head of Research and Evaluation Unit at the National Examination Council of Tanzania (Necta) Dr Alfred Mdima says in the absence of the employment of more teachers, the current instructors must be creative in delivery to minimize effects of the shortage of both teachers and classrooms.
"Teachers must manage their classes by instructing and dividing pupils into small groups," he said, citing India as an example of countries with a high population and successfully deploying this strategy.
Mr Mdima is also of the view that the government can reach out to teachers who were willing to work on contractual basis to help curb the shortage.
Hakielimu Head of Programs Godfrey Bonaventure said the government should prioritise the employment of teachers and post them to worst hit areas.
He welcomed the recent initiative to re-allocate excessive secondary teachers to teach in primary section.
The Uwezo Tanzania manager, Ms Zaida Mgalla, says teachers' incentives such as allowances, housing, electricity, water and transport and communication should be improved to attract new ones and boost morale of those in service.
Plans are afoot to employ 10,140 primary school teachers next month, according to local government deputy minister Joseph Kakunda.
He revealed this recently in the parliament in Dodoma when responding to a question from the Ludewa MP, Mr Deogratius Ngalawa. Mr Kakunda said Necta is currently verifying the academic credentials of those who are lined up for employment as teachers.