5 TV stations incur TCRA wrath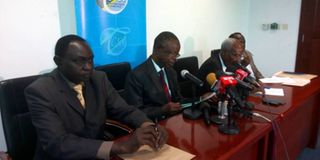 Dar es Salaam. Tanzania Communications Regulatory Authority (TCRA) has fined five television stations Sh60 million for unethical broadcasting.
The television were penalised for airing seditious information, which is contrary to the Broadcasting Act of 2005.
TCRA content committee chairman Joseph Mapunda named the five stations with their fines in brackets as Star TV (Sh7.5 million), Azam Two (Sh7.5 million), East Africa TV (Sh15 million), Channel 10 (Sh15 million) and ITV (Sh15 million).
 "The television stations are supposed to pay the fines within 30 days from today [yesterday]. If they are dissatisfied they should appeal to Fair Competition Commission in 30 days," he told journalists.
According to him, the stations aired a Legal Human Rights Centre (LHRC) evaluation of November 26, 2017ward by-election.
Mr Mapunda said that was offensive, unethical, unlawful and contravened No. 6, sections (2) and (3) of the Broadcasting Act of 2005.
He said by broadcasting seditious news peace was being threatened and safety jeopardised. He said that was against the Broadcasting Act of 2005, No. 5 Sections (a) and (b).
Mr Mapunda said the LHRC evaluation claimed that peace was breached, human rights were violated, security organs abused their power, innocent citizens were abducted by unknown people and people were attacked to threaten voters.
He said the evaluation also portended violence in the coming civic polls and general election.
He said that after going through all five televisions stations contents that were aired on ward by-elections, the committee was convinced that they committed offences.
"Before broadcasting such information, the television stations were supposed to check with the National Electoral Commission instead of airing such information without confirming the other side," he said.