Chinese envoy: How to hit 7pc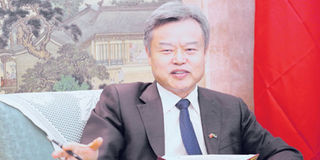 What you need to know:
Dr Lu told a news conference on Wednesday that Tanzania's investment needs in 2016/17 amounted to $13.422 billion, while corresponding domestic capital was only $8.533 billion. This translates into a $4.9 billion deficit.
Dar es Salaam. Tanzania needs to attract more foreign direct investment (FDI) to realise its goal of attaining seven per cent economic growth, according to the Chinese ambassador to Tanzania, Dr Lu Youqing.
Dr Lu told a news conference on Wednesday that Tanzania's investment needs in 2016/17 amounted to $13.422 billion, while corresponding domestic capital was only $8.533 billion. This translates into a $4.9 billion deficit.
"To close the gap, the government has to rely on borrowing from foreign countries. Tanzania used to consider foreign aid as another source of funding, but when you read last year's report, less than 30 per cent of foreign aid was released," Dr Lu said.
He added that China was ready to share its experiences with Tanzania as far as FDI was concerned.
The country has taken a step in the right direction by laying the ground for an inclusive business environment, improving government efficiency, improving policy transparency and striving to create a level playing ground for business, the envoy said.
"But this is a long term process. There are still many difficulties and challenges that should be tackled by the government and the people. For instance, the ongoing tax system reforms may not go down well with some companies and individuals, but in the long run the government will benefit through increased revenue. That will increase the government's investment in infrastructure, which, in turn, will improve the business environment for the benefit of investors," Dr Lu said.
The envoy, who had invited journalists for an exchange of ideas, said Chinese companies would actively participate in an upcoming tender for upgrading the Central Railway to standard gauge, and saluted the consortium of Turkish and Portuguese companies contracted to build a new railway line between Dar es Salaam to Morogoro.
Dr Lu told said China would encourage its companies to actively bid for the remaining section of the Central Line stretching 900 kilometres from Morogoro to Kigoma and Mwanza, with a branch to Mpanda.
He said Turkey's Yapi Merkezi and Portugal's Mota Engil-Africa, which bagged the Dar es Salaam-Morogoro deal, were among 40 companies which submitted bids for the tender that also attracted bidders from China and South Africa.
"I commend the Tanzanian government for a transparent tendering process. Chinese companies told us that tendering procedures were competitive and transparent. Chinese companies will take part in tenders to be announced for other slots."
Dr Lu said the Chinese government was aware that Tanzania was intent on putting in place well developed and efficient transport infrastructure, adding that China was well placed to assist in the endeavour.
On plans to revive the Tanzania-Zambia railway, the envoy said technical proposals and funds from the Chinese government were waiting for the Tanzanian and Zambian governments to make the necessary changes to facilitate the takeover of the Tanzania Zambia Railway Authority (Tazara).
Dr Lu added that when Zambian President Edgar Lungu visited the country last year he agreed with his Tanzanian counterpart, Dr John Magufuli, to reform the Tazara management and pave the way for the railway to become an important player in economic advancement in both countries.
He said an efficient Tazara could go a long way in minimizing transport costs between Tanzania and Zambia. "The two countries are now implementing directives by their presidents to review and amend the relevant laws and regulations. The two governments are also working closely with the Chinese team to set the stage for the restructuring of the Tazara management."
The three countries would also be involved in selecting a company that would run the railway, although Tanzania and Zambia had indicated their preference for a Chinese company, Dr Lu said.
"The three countries have already agreed on the major issues and are now working on minor pending matters. An agreement is expected to be reached soon to allow for full implementation of what would be agreed."
Regarding the construction of the proposed Bagamoyo Port, Dr Lu said the project to be implemented by the Tanzanian government, China Merchant Holding Limited (CMHL) and State Government Reserve Fund (SGRF) of Oman would start after plans are finalised.
"China Merchant and the Tanzanian government need to agree first on how the project will be implemented because while the investors favour implementation in phases, the Tanzanian government wants the project be implemented as a single entity," he said.