Gay crackdown fiasco in Tanzania leaves Dar es Salaam RC Makonda exposed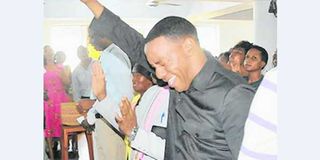 Summary
Makonda's controversial campaigns continue even as other leaders begin to question his development priorities

Dar es Salaam. Dar es Salaam Regional Commissioner Paul Makonda was forced to eat humble pie on Sunday when the government distanced itself from his plan to launch an "anti-gay hunt squad."
News about Makonda's hit squad' attracted widespread coverage by the international media and even won condemnation from UN Human Rights chief Michelle Bachelet. By the time the ministry of Foreign Affairs was intervening to explain that the RC's intentions did not have government blessings, the country's image had already taken a beating internationally.
Tanzania law criminalises same sex liaisons, but it was the manner in which Mr Makonda wanted to enforce the crackdown that drew the ire of both local and international human rights watchers and activists. Following the government statement, yesterday was a quiet day for the RC who was meant to officially launch the "gay hunt squad" comprising representatives from other security arms.
For the public, the gay crackdown was yet another public posturing disaster for Makonda that only served to add to his now notorious record of jolting the people with often controversial campaigns.
Since being appointed to the regional administration, and especially as Dar region top administrator, Makonda has skidded from one controversy to the other, and like it happened on Sunday, he has ended up literally crying in public after some of his campaigns appeared to backfire.
Inevitably, the RC's theatrics and rabble rousing has begun to attract questions whether he was getting his development priorities right for the nearly five million people of Dar es Salaam.
Some of Makonda's controversial campaigns that pitied him with other government officials, include anti drugs crackdown, using militias in public cleaning initiative, a campaign to force fathers of reportedly abandoned children to own up and take responsibility and a supposedly house to house HIV/Aids and prostate cancer testing, which, however, did not take off. Mr Makonda's night raid at Clouds TV studios, which ultimately cost the job of information minister Nape Nnauye and his recent run-in with finance minister Philip Mpango over a Sh1.2 billion tax dispute are other headline grabbing highlights that have characterised his reign so far.
Yesterday, Ubungo Mayor Boniphace Jacob told The Citizen that none of Mr Makonda's campaigns have been successful because they were not discussed at the regional consultative council, which acts as an advisory board of the region.
"We meet twice a year and he has never brought any of these matters for discussion, they are entirely his personal agenda," said Mr Jacob. He explained that Dar es Salaam has a social services committee, which addresses such issues, but neither has the RC used it as required.
"I'm not surprised with what he does for I knew from the day he was appointed that he is going to be a failure. He is neither experienced in business nor in diplomacy, the two areas which distinguish the city with other regions," said Mr Jacob. Ukonga MP (CCM) Mwita Waitara came to the defence of the RC, saying his responsibilities are not limited to economic or security issues.
"He is also responsible for other issues such as drug abuse and homosexuality that he thinks affects the labour force of his region," said Mr Waitara, who recently defected from Chadema to CCM. The MP said he was surprised that the government disowned him. The former Legal and Human Rights Centre executive director, Dr Hellen Kijo-Bisimba, put the blame on Makonda's appointing authority, President John Magufuli.
Dr Bisimba said that the President's failure to hold his appointee accountable has intensified Makonda's reckless behaviour in taking for granted things that have far reaching consequences for the country. "The RC has become so arrogant knowing that nothing can happen to him no matter what he does," she said.