How farmers can boost milk yield, adapt to climate change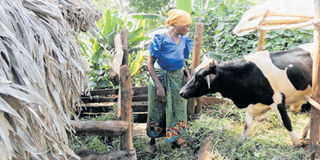 What you need to know:
A climate change adaptation project has teamed up with other stakeholders to merge the needs of increased milk production and incomes and climate change adaptation in the East Usambaras. George Sembony reports from the East Usambaras.

Tanga. Getting his dairy cow impregnated has always been a headache for Ignatio Mzalia, dairy farmers – now- cum Artificial insemination expert at Kwemsoso Village in the East Usambara Mountains.
"I had to travel to another village for services from a dairy bull I did not even know its milk production history," Mr Mzalia said. Now, he does not have to worry about that. When his cow is in heat, he just uses his Artificial Insemination Kit he got after being trained on AI basic skills in Arusha.
Deep in the East Usambaras, in Muheza District, dairy farmers are taking action that would enable them to change their lives by increasing milk production using new animal husbandry technologies, but also enabling them to adapt to the climate change phenomenon.
They are doing so through a climate change adaptation project being implemented the East Usambaras, 'Integrated Approaches for Climate Change Adaptation in the East Usambara Mountains' that is jointly implemented by the Ongawa, Tanzania Forest Conservation group (TFCG) and Muheza District Council.
Other partners are Leeds University and Sokoine University of Agriculture.
The project whose overall objective is to demonstrate effective and efficient strategies that support poor, rural households in Tanzania to adapt to the negative impacts of climate change and to alleviate poverty has teamed up with various stakeholders to execute a programme aiming at increasing milk production while at the same time implementing climate change adaptation actions.
The project, which has reached about 3820 individuals who are direct beneficiaries, is composed of the interlinked conservation and livelihoods related components which are water and sanitation, forest, agriculture and energy.
Each of the components is linked to project final outcome.
It is cooperating with the Tanga-based milk processing company that purchases milk from farmers through the Tanga Dairy Cooperative Union (TDCU), the Tanzania Livestock Research Institute (TALIRI), the Muheza District Livestock Department and the Tanga City-based Buhuri Livestock Training Institute (Buhuri LITI).
Mr Ignacio is one the four farmers who were sent for training on AI basic skills through the climate change adaptation project that is seeking to change dairy farming practices in the East Usambaras as one of the ways of increasing milk production and diversifying income generation while at the same time contributing to climate change adaptation.
He said he has so far extended the service to 20 dairy farmers and reported that farmers were happy.
He said that they were now sure of the type of semen that is being impregnated because it has been tested as originating from bulls that have an excellent milk production history. The semen was imported from New Zealand.
Another AI village expert, Mr Luka Shemsigwa said that he has so far extended the service to 11 dairy farmers in the project area.
A dairy farmer, Halima Adam Chamungwana whose cow received AI service said that training in new methods has enabled her to change.
"My cows produce more milk now after providing them with the required feeds. I have also planted special grass for them," she said.
The programme, generally, aims at changing farmers from traditional subsistence dairy farming to commercial farming by teaching them new animal husbandry technologies being tested by TALIRI.
They include planting of grass for animal feeds, forage storage techniques to use during dry seasons and using Artificial Insemination (AI) against traditional methods that depend on bulls.
According to the Milk Sourcing Department manager, Ms Anadomana Nyanga, the TFCG, which is the lead organisation in the climate adaptation project, has played a major role in reaching out dairy farmers and introducing those new technologies in the eight villages where the project operates in Misalai and Zirai Wards in the East Usambaras.
For the milk processing company, the programme aims at enabling the company to increase its production from the current 45,000 litres per day to over 90,000 litres.
"Our aim is to empower the dairy farmers to minimise the impact of climate change by planting grass, preparing silage to cushion them from the dry season and use of biogas that encourages cleaning of the cow shed," Ms Nyanga said.
The company said that increased production cannot be reached without reaching the farmers and teaching them to use new technologies.
"There are a total of 6,257 dairy farmers grouped under 24 dairy cooperative societies which form the Tanga Dairy Cooperative Union (TDCU). If each of them can increase production by at least 10 litres, the milk being processed by the company would increase drastically," she pointed out.
According to the Muheza District Livestock Development Officer, Dr Paul Kisaka, so far over 25 cows have received AI services and has re-introduced the credit scheme where 17 heifers have already been provided to dairy farmers.
"Our aim is to increase the number of dairy cows and production of milk through modern technologies," he said.
To sustain the dairy farming, Dr Kisaka said that a Dairy Business Hub would be formed at the Dairy Coop Society where dairy farmers milk will be collected and loans, and inputs would be sold.
Dr Kisaka said that their responsibility is to connect them with various distributors of inputs and financial institutions for financial, AI services, feeds and medicine.
The District Environment Officer, Mr Cyprian Mselem said that the district has prepared plans to extend those activities by absorbing them in their annual budgets.
He said that they have no difficulty doing this because their extension officers were fully involved in the project activities.