Media council abhors impunity on crimes against Tanzanian journalists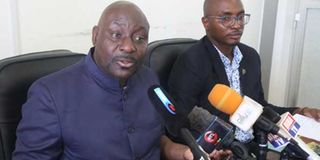 Summary
The Media Council of Tanzania (MCT) has called for action to end impunity on crimes against journalists and revealed that police officers are the leading in carrying out violence against journalists.

Dar es Salaam. The Media Council of Tanzania (MCT) has warned against cases of people who commit violence against journalists, yet they walk away with impunity.
The MCT Executive Secretary Mr Kajubi Mukajanga said on Friday November 2nd that any inaction against those who oppress the media amounts to giving a leeway for further oppression.
Mr Mukajanga said this during commemorations of the international day to end impunity on crimes against journalists.
He revealed incidents of violence that have happened in Tanzania; whereby journalists arethreatenedand media houses are attacked but no investigation or legal action has been taken.
"It is now 346 days since Azory Gwanda, a journalist from Mwananchi Communications Limited went missing. But no one has been apprehended or taken to court in connection with this matter," said Mukajanga.
Furthermore, he said,from January to October this year 35 Tanzanian journalists from various media houses have faced a different situation in when in their line of duty.
"Such incidence includes being denied access to information, abduction, being threatened, being held without evidence, being abused, removed by force from an area while trying to cover a story and destruction of their working equipment," he said.
According to the MCT database, police officers are leading in oppressing journalists in the country whereby in the period of January to October this year, 27 journalists have gone through bad incidents in the hands of police officers.
This is followed by threats from different public figures from the government. Five cases related to this, have been reported, he said.
"We want reporters to report a story today and be able to live and tell another story but the impunity taking place in does not allow such a chance," he noted.
Lastly, Mr Mukajanga said, journalism is legal and that stakeholders from different sectors should work with them in fulfilling their duties.