Miners call for acceptance of gold as security for loans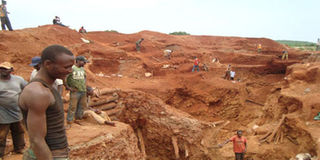 What you need to know:
Gold miners in Geita want authorities to adopt the use of gold as surety for loans

Miners say demand for land or house titles has locked many of them out of the financial sector

Use of gold as surety will also benefit lenders as global prices rise

Geita. Gold miners in the region have advised financial institutions in the country to put in place a unit that will allow gold as a guarantee instead of continuing to depend on houses, land and other assets as the only security. According to them, such a unit will enable gold miners to continue mining with benefits especially during periods that gold prices in the world market drop.
Godfrey Miti who is a small scale miner said that if financial institutions accepted gold as a surety, it would enable especially small scale miners, to access loans and be able to practice new and modern technology in mining.
"The gold market is unpredictable, but if our financial institutions accepted it as surety it would benefit us. It's obvious that when the world gold prices rise, miners benefit and the government gets adequate taxes compared to when the prices are down," he said.
The chairperson of Women Miners' Association in Geita, Ms Sia Hussein, called on the government to find an alternative chemical in place of mercury, which is hazardous for use. She said that a majority of women who used mercury in separating gold from other minerals and impurities were facing health challenges including cancer.