Nkurunziza says there's now political stability in Burundi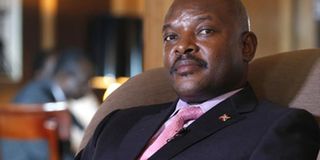 What you need to know:
He said despite the chaos that rocked his nation two years ago following his extension of tenure, there were enough indications that the political situation has stabilized.
Bujumbura. In one of his rare appearances in a regional event, President Pierre Nkurunziza of Burundi came out strongly yesterday, saying there was now peace and stability in his country.
He said despite the chaos that rocked his nation two years ago following his extension of tenure, there were enough indications that the political situation has stabilized.
Gracing the opening of the sixth East African Health Summit, Exhibition and Trade Fair, Nkurunziza said his country was now peaceful contrary to the ugly past during which scores of people were killed during clashes between protesters and the security forces.
"Indeed holding this session in Bujumbura is a strong indication that peace and stability are a reality in our country contrary to the lies conveyed by some malicious groups", he said.
He affirmed his country's desire for increased collaboration with fellow states in the East African Community (EAC) bloc, adding; "Burundi certainly has lessons to learn but also more success stories to share".
This was not only the first regional event to be officiated by President Nkurunziza for months, but the first major activity to be organized in Burundi for more than two years.
Burundi plunged into political turmoil in April 2015 when President Nkurunziza announced his intention to vie for presidency for the third term that year, in which he won in the July polls boycotted by a section of the opposition.
The subsequent street protests in the capital Bujumbura and clashes between the security forces and targeted killings of army officers and politicians worsened the situation.
The last time for President Nkurunziza to attend a regional leaders' summit was in May 2015 in Dar es Salaam while no major EAC activity has taken place here since a session of the regional Assembly in March 2015.
He appeared jovial as he rubbed shoulders with health and scientific officials from the five partner states, Tanzania, Uganda, Kenya, Burundi and Rwanda at the Professional Technical College in Bujumbura.
He said his country was committed to regional integration and called on the health and medical researchers in particular to work together in order to tackle major health challenges facing the region.
The Burundian leader said health challenges in EAC states have been compounded by the vagaries of climate change, environmental pollution and emergence of new diseases.
The Burundi political situation, which has seen the country failing to attract many EAC events, appeared to dominate with remarks made by officials during the opening of the conference.
The country's minister for Health Ms Josiane Nijimbere was applauded when she said there was enough peace for the country to attract more visitors and EAC projects.
She called for fast-tracking of relocation of the East African Health Research Commission, an institution of the EAC which was created in 2007 but operationalized in 2015.
The Commission, was initially expted to relocate to Bujumbura its designated seat in January this year but has now been postponed to another time. She said the process should be fast-tracked.
Responding to the request, Tanzania's Health minister and chair of the EAC Sectoral Council on Health Ms Ummy Mwalimu said there would be no more excuses for delayed shifting of the commission's head offices from Arusha to Bujumbura.
When he spoke to journalists in Arusha last week, the commission's executive secretary Prof. Gibson Kibiki said EAHRC would move to Bujubura later this year, becoming the first EAC institution to be based there.