Non-tariff barriers hinder investments flow in EAC region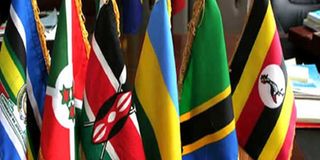 Arusha. The East African Business Council (EABC) said non-tariff barriers (NTBs) are partly to blame for the slow pace of investment flows into the East African Community (EAC) bloc.
The council believes removal of the most notorious barriers would pave way for the flow of investments into the region.
"There is no doubt that if all NTBs hindering trade within the EAC common market are removed, the domestic demand and market will attract more investments from across the world," said Mr Peter Mathuki, the EABC executive director.
He raised the concern here on Tuesday during the EAC-German Business and Investment Expert Dialogue co-organised by the Community and the German-African Business Association.
He said if NTBs were removed, the region would attract investments from Germany and all over the world "as it will be more economically viable for all investors to invest in the EAC".
EAC deputy secretary general (Productive and Social Sectors) Christophe Bazivamo said the six partner states in the bloc are currently streamlining their investment procedures.
This would simplify administrative procedures related to investments as well as promote and maintain dialogue with the private sector.
He added that the draft EAC Investment Policy is currently under consideration by the Council of Ministers, the powerful policy organ of the Community.
The investment guideline envisages to transform the bloc into an upper middle-income region that is a competitive common investment area with a transparent investment environment.
He stated that the proposed investment policy would also lay ground for the EAC partner states to cooperate in investment promotion and enhance cross border.
At the regional level, he said, EAC has developed a platform where the private sector, civil society and other interest groups interface with the secretary general.
The German-African Business Association CEO Mr Christoph Kannengiersser urged the EAC to prioritize collaborative approaches that will ease the movement of goods and people across the region.
"You should prioritize approaches that will see supply chains strengthened across borders", he told the meeting held at the EAC headquarters.
It brought together policy makers, experts and private sector representatives from across the East African region and Germany.
Germany, the powerful economy in Europe, is one of the leading trading partners with the EAC. Exports from the bloc was valued at $396 million in 2017.
Imports from Germany to the region last year amounted to $798.8 million, according to statistics from the International Trade Centre (ITC).
EAC's exports to Germany comprise mainly coffee, tea, spices, cut flowers, tobacco and precious stones among others with machinery and chemicals dominating the imports.