Population growth rate raises alarm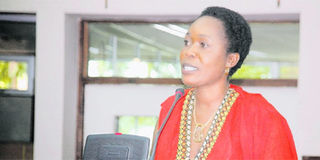 Summary
The Tanzania Parliamentary Association on Population and Development wants the rate, which currently stands at 2.7 per cent annually, to be controlled
Dar es Salaam. The Tanzania Parliamentary Association on Population and Development (TPAPD) has resolved to make family planning a priority development agenda at all forums.
The aim is to control the high population rates.
Currently, Tanzania's population is estimated to be growing at 2.7 per cent annually.
TPAPD chairperson Mary Mwanjelwa said emphasis would be put on the use of contraceptives.
The contraceptive prevalence rate (CPR) currently stands at 32 per cent.
The strategy is part of a Declaration of Commitment that TPAPD issued to mark the International Women's Day yesterday.
She said in the statement that the association committed to prioritise family planning issues in parliament, at constituency, council and community level forums, and at all events to enhance public and leadership understanding of the benefits of family planning on health and socio-economic development.
 "TPAPD noted with concern the country's high fertility rate of 5.2 children per woman in reproductive age, a slow growing CPR, and an increasing teenage pregnancy rate of 27 per cent in 2015," the statement reads in part.
Family planning is a pre-requisite to enabling the country to manage high fertility that often generates high dependency and accentuates poverty, further frustrating the country's efforts to achieve its Vision 2025 Goal of a high-quality livelihood for the people, and a strong and competitive economy.
Sixty-five per cent of the country's population is under the age of 25, and adolescents and youth have little or no access to information, contraceptives, and services, hence exposing them to risks associated with poor reproductive health status.
TPAPD stressed that young people ought to be empowered with information and services to enable them to make informed decisions on reproductive health issues including family planning.