Why Mtwara violence is beyond gas pipeline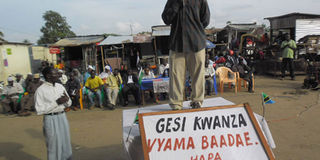 What you need to know:
Tension appeared to be rising steadily in Mtwara town as stakeholders tried to put together a solution that would be acceptable to all.
Mtwara/Dar/Dodoma. A consensus appears to be building among critical stakeholders that the riots in Mtwara are driven by more than mere objection to the construction of the natural gas pipeline from the town to Dar es Salaam. In interviews with The Citizen, some Members of Parliament even suggested that foreign elements could be at play in the upheaval over who gets to control the gas supplies.
The tone of the protests in Mtwara and other parts of the country is increasingly seen as an indication that the country--ranked by GPI's 2011 survey as the eighth most peaceful state among 37 countries in Africa--should move fast to establish the forces that are out to disrupt the peace.
The MPs want security organs to investigate allegations that there are foreign forces behind the developments in Mtwara. Economic pundits told The Citizen that the government would be well advised to suspend the construction of a 532-kilometre gas pipeline from Mtwara to Dar es Salaam and instead engage the people in a round-table discussion if it is to end the crisis.
Tension appeared to be rising steadily in Mtwara town as stakeholders tried to put together a solution that would be acceptable to all.
A pregnant woman was reportedly shot dead and at least three houses were razed in the Magomeni area. A medical officer at Ligula referral hospital, Mr Mohamedi Kodi, said in a telephone interview that at least 18 people, including three policemen, were receiving treatment.
Some had gun wounds and blood pressure spiked in others due to gas canister blasts. Some shops were looted and burnt down and women and children took refuge at Ligula hospital.
The Mtwara regional police commander refused to give this newspaper an update on the security situation, saying he was awaiting the arrival of Minister for Home Affairs Emmanuel Nchimbi yesterday evening. Dr Nchimbi had earlier in the day read a government statement vowing to crack down on the protestors. About 91 people were arrested in connection with the violence.
The project, funded by a loan from China at an interest rate of 1.5 per cent to be paid for over 20 years after a seven-year grace period, is expected to receive a $39.4 million (Sh63 billion) from the government in the 2013/2014 financial year.
CCM's MP for Tabora Urban, Mr Aden Rage, told The Citizen: "There is more to this issue than meets the eye…it could be China that is being fought in the Mtwara saga as some global powers are out to show China that they can thwart any project that is not in their interest."
Mr James Mbatia (Nominated–NCCR Mageuzi) shared these sentiments. "The fact that China has given us that loan to undertake such a massive project is itself reason enough to appreciate that some global powers are not at ease with it," he said.
Mr John Cheyo (Bariadi East-UDP) said the issue at stake may not necessarily be natural gas and it is important to carry out thorough investigations on the forces behind the crisis. He said: "It does not seem to me that this chaos is just about transferring natural gas from Mtwara to Dar es Salaam. There are certain forces behind the Mtwara chaos.Luckily, we spend a lot of money on our security organs. It is time for them to tell us who is behind this. They should tell us whether or not there are foreign influences."
Prof Humphrey Moshi of the University of Dar es Salaam advised that the government form a team of experts that does not include politicians and that would visit the region and educate locals on the benefits of the gas deal. There should be consultative sessions that involve residents so as to create awareness rather than using force." Research on Poverty Alleviation Executive Director Professor Samwel Wangwe also underscored the need to first sensitise Mtwara residents before embarking on construction of the pipeline.
Former Secretary-General of the East African Community Ambassador Juma Mwapachu argued that it appeared that the government was not communicating well with Mtwara people. "It should open a broad-based discussion with opinion leaders and civil society to identify the source of the conflict," he added.
Reported by Samuel Kamndaya in Dodoma, Abdallah Bakari in Mtwara and Katare Mbashiru, Anuciatha Lucas and Veneranda Sumila in Dar es Salaam
Mtwara Special Seats MP Fatma Mikidadi claimed that most of the protesters were from a neighbouring country. "When they march in the streets, they chant in a language from a neighbouring country and they mention the names of leaders of that country," Ms Mikidadi said. "This issue must be investigated."
Mr Joseph Selasini (Rombo-Chadema) said it was imperative that the forces behind the violence be established: "We need to be told whether it is a political party, a civil society organisation or some foreign influences….let us be told who is it that does not wish this country well because, at the end of the day, we all need peace….it is an open secret that those behind these riots are out to divide Tanzania."
According to Minister for Energy and Minerals Sospeter Muhongo, electricity will be generated via four generators--two with a capacity to generate 300mw each, and two to generate 150mw and 240mw.
By 2015, the plant should be generating 2,785mw--ending Tanzania's power blues once and for all.
(Reported by Samuel Kamndaya in Dodoma, Abdallah Bakari in Mtwara and Katare Mbashiru, Anuciatha Lucas and Veneranda Sumila in Dar)