Kenyan biotech cotton likely to impact Tanzania farmers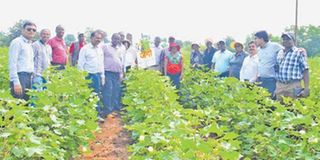 Dar es Salaam. Kenya's decision three years ago to allow research on biotech cotton, which is leading to trials in adopting commercial farming in 2019/2020, could put other countries - including Tanzania - at a disadvantage when it comes to quality and quantity.
Biotech has been used to mitigate effects of pests and diseases, as well as drought stress and other challenges facing farmers globally, with broader advantages of reduced production costs, improved crop quality and environmental protection from use of excessive pesticides through chemical sprays.
Cotton pests include insect populations that thrive on cotton crops. Two of the major cotton pests are the boll weevil and the pink bollworm. The weevil is a pest which primarily attacks flowers and bolls.
According to a 2018 report on cotton farming using Bt technology, Tanzania produces 357,000 tonnes of cotton per year in an area of 400,000 hectares grown by small farmers in 15 regions and 46 areas of Tanzania Mainland. The average yield of cotton in Tanzania is less than a third of the world's average.
Cotton growers produce about 750-800 kilogrammes per hectare. This is lower than other African countries such as Burkina Faso that produces 1,220kg per hectare, and Benin: 1,283kg per hectare.
For more than four decades from 1974 to 2014 cotton production has been low, growing at an average of 300,000 tonnes per year. This level is relatively low compared to other countries such as Egypt, Sudan, Burkina Faso and India which, during the same period, increased productivity and production levels.
Some of the challenges that lead to poor productivity and poor production in Tanzania include use of poor quality seeds, low inputs consumption - especially fertilisers and pesticides - diseases and pests.
In 2016, a total of 22.3 million hectares of Bt cotton were planted in 14 countries, namely: India (10.8 million hectares), US (3.7 million hectares), Pakistan (2.9 million hectares) and China (2.8 million hectares).
Other countries are Brazil, Australia, Argentina, Myanmar, Sudan, Mexico, Paraguay, Colombia, South Africa and Costa Rica. The area planted with this type of cotton in 2016 was equivalent to 64 per cent of all cotton in the world, and was able to increase production. Reports show that the first results of the national performance trials (NPT) of genetically-modified (GM) cotton done by the Kenya Plant Health Inspectorate Services (Kephis) in partnership with the Kenya Agricultural and Livestock Research Organisation (Kalro), universities and several scientists, which are due this year, are eagerly awaited by stakeholders in the textiles industry.
Kenya and South Africa initiated Bt crops' research and trials almost simultaneously (Kenya in 2001, South Africa 1998). But, the latter has become the first country in Africa to release its first commercial, insect-resistant Bt crop (Bollgard II cotton) that was subsequently adopted for commercial production four years later, in 2002.
Meanwhile, an independent agriculture consultant, Dr Emmarold Mneney, said reports show that cotton is grown by 500,000 growers in 17 regions and 49 districts where the sizes of the farms range between 0.5 and 5 hectare (ha).
He said the crop is 100 per cent rain-fed, and 70 per cent is exported as lint, while the cotton value chain engages 40 per cent of the working population in those areas.
He noted that farmers harvest yields of between 200 and 300kg per acre, and that Tanzanian cotton is sold at a discount of between 2-and-4 US dollar cents because of poor quality. It used to enjoy a premium of between 4-and-6 cents before liberalization
"The biggest challenge facing cotton farmers is inadequate application of inputs: no fertilizers, minimum number of sprays, poor delivery of extension services, use of uncertified seeds, low mechanization of farming activities, as well as weather-dependent agriculture and climate change," he said.
He noted that the government was looking to establish and promote a vehicle to deliver quality inputs to farmers: contract farming, revival of a functioning Seed Multiplication System and strength delivery of extension services.
Further there are plans to promote new technologies, mechanization of farming activities and strengthening quality monitoring at buying posts and at ginneries.
Open Forum for Africa Biotech (OFAB) advisor Nicolaus Nyange said Tanzanian farmers are currently yielding few crops as well as being forced to use pesticides for six-to-eight rounds in just one season - which is detrimental to the environment.
He said Tanzania is yet to start research trials on the crop to understand whether biotech cotton will be beneficial for farmers in the country.
He said this in view of a report on Global Status of Commercialized Biotech/GM crops 2017 which shows that the increase in income benefits for farmers growing biotech cotton during the 21-year period (1996-2016) was Sh136.5 trillion ($59.9 billion). The report shows that India was the largest cottongrowing country in the world, with 114 million hectares of biotech cotton.
According to him, Sudan and South Africa have adopted the technology for cotton whereby Sudan's yields increased 2-to-3 times than those of conventional varieties.
"This is not only expensive; it is also detrimental to the environment because the spray also kills important insects that are vital to the environment," he said - adding that "more production (means) more money; less pesticides (means) more quality clean cotton and safer environment due to decreased use of pesticides."
Reports show that the reason behind low yields in Africa include opportunistic behaviour where focus is more on price rather than on yields, as well as lack of know-how, poor timing of operations including lack of manpower and equipment; competition with other crops in growing and harvesting seasons and suboptimal inputs use.
Productivity is key to improving incomes of cotton growers. Income for the farmer is a factor of quantity, quality and price.