When female students are cornered into sexual submission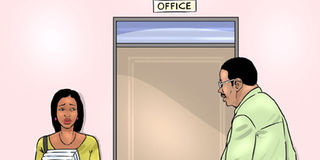 What you need to know:
Recently, Tanzania's top most university, University of Dar es Salaam (Udsm), was in the spotlight after cases of alleged sexual assault against female students surfaced. Victims of sexual assault at the institution were petrified to come forward to reveal the identity of the perpetrators. Woman magazine interviewed some of the victims who were willing to tell their stories, but preferred anonymity.

Sexual assault at higher learning institutions in the country has become pervasive. Even though the distasteful trend has been in existence for years, its subliminal nature, owing to unreported cases, has enabled it to thrive.
Recently, Tanzania's top most university, University of Dar es Salaam (Udsm), was in the spotlight after cases of alleged sexual assault against female students surfaced. Victims of sexual assault at the institution were petrified to come forward to reveal the identity of the perpetrators. Woman magazine interviewed some of the victims who were willing to tell their stories, but preferred anonymity.
When university students graduated last month, Michelle* was supposed to be at the podium jubilating with them. But that wasn't the case, instead, she was fighting to regain her health after falling ill before she could finish her exams. Upon recovery, the Udsm student requested for special exams that are normally offered to those who failed to do initial exams for various justifiable reasons.
Before she could sit for the special exams in September, the lecturer in charge asked her to meet him in his office for a 'detailed' discussion on the matter, it was during evening hours. Upon entering his office, Michelle noticed an adjacent room inside the main office.
The lecturer closed the door behind them and started making unwelcome advances toward the unwilling victim. He ordered her to 'comply', promising to include her name on the list of students due to graduate the next month (November).
Michelle didn't comply. The facilitator insisted that there was no need for her to take the examination. He promised to clear everything if she agrees to have sex with him.
"I didn't stoop to his level," she says, but admits to fear for her academic future. "I was too scared to tell anyone what had happened. I feared being suspended or expelled," she adds.
After the incident Michelle went back home not believing what just took place.
She decided to forego the remainder of the academic year and planned to enroll in the next intake in order to finish her course. She was fortunate that when she resumed her studies, the lecturer who sexually assaulted her wasn't teaching the same course anymore. She now looks forward to finalizing her first degree studies.
Michelle isn't the only female student who is faced with such challenges. There are other women who've fallen victim to sexual assault but have chosen to remain silent for various reasons. "I believe this challenge is wide-spread, it's not just at Udsm," Michelle says.
Female students at higher learning institutions feel that they are at a disadvantage compared to their male counterparts due to such challenges such as being sexually desired by a lecturer.
"I'm glad that an alarm has been set on the matter, perhaps now some mechanisms will be set to help with the situation," Michelle says.
Another female student at Udsm, in second year, revealed to Woman that lecturers had a range of tactics they use to convince students to succumb to their sexual whims.
"Last year I was faced with a challenge after missing a 'quiz' (an abrupt question during lectures). The lecturer in charge used this as an opportunity to try and lure me in to sleeping with him after I went to him for consultation," she says. "He asked me to visit him later at his house, stating that he is not yet married," she adds.
The student was taken aback by the lecturer's actions, especially after he started prophesising his love for her. "He said he had fallen in love with me, and that 10 marks could make me not graduate," she speaks.
She immediately threatened to scream, momentarily the lecturer refrained, but retorted with threats of ruining her academic future, promising to fail her in his subject.
"I took extra time to study his course thoroughly just to make it difficult for him to fail me. I passed, but the trauma following the incident affected me psychologically," she says.
Male students also affected
Female students might be at the centre of sexual assault incidents at the hands of lecturers, but male students are also indirectly affected.
A fourth year male student at Udsm, whose identity is also preserved, said that he got a supplementary in 2016 because he had a girlfriend, and the lecturer also had interest in the said lady."I was a second year student at the school of law, I used to have a first year girlfriend [also studying law], who later informed me that one of the lecturers intimated his sexual desires to her. I launched my own investigation and uncovered that the lecturer not only admired my girlfriend, but they were actually dating," he reveals.
He confronted his girlfriend, who admitted to succumbing to the lecturer's demands, but says that she only did it because he promised to help her pass final exams.
The male student was then warned by the lecturer to stop dating the girl. To make his point clear, according to the law student, the lecturer decided to give him a supplementary in his course just to affirm his intensions.
"There is a chain of lecturers particularly in the school of law who need to be investigated on allegations of faking transcripts for female students in exchange for sexual favours," he says.
Upon contacting the girl in question via phone call, she initially refused to comment on the matter, stating that it is too personal, but was later forthcoming.
She admitted to dating the lecturer because she feared failing his course. She however reveals that after getting an 'A' and moving to second year, she broke things off with the lecturer because he didn't have a course in second year.
"Sometimes girls are faced with such kind of challenges and because of fear we find ourselves falling victims. I never dated my lecturer out of love, I was just scared," she says.
"Everyone needs a good GPA and sometimes there are tricky courses that if you are not careful, you will fail to graduate. This is where some unethical lecturers apply their tactics to lure female students into sexual submission," she adds.
Woman contacted Dar es Salaam University Students Organization (Daruso) leadership in a bid to get their views on the matter. One of Daruso leaders, who preferred anonymity, said that sexual corruption has reached an alarming level at Udsm.
"Issues of sexual favours have reached the apex. Our university's ethics committee is reported to have grilled some suspected lecturers.
Though it's a good effort, it's one that is short-lived. We're lacking a good system that can be used to report such matters," he says, adding, "We believe that the management is going to create a mechanism that will enable students to report their cases."
According to Prof James Ombeni of Mzumbe University, sexual corruption affects many students especially when it comes to awarding marks and research supervision.
"The challenge with this evil is that it feeds on silence. Perpetrators bask in it while it cloaks its victims heavily, masking their mouths, keeping them petrified. Made worse is that management that victims can turn to rarely act in the interest of students," he says.
Prof Ombeni further says that the issue needs not to be assumed because many students, not only at the University of Dar es Salaam, but also in other varsities, have somehow failed to graduate on time or graduated with fake credits just because of this kind of corruption.
"It is obvious that we cannot find statistics available as to the prevalence of sexual harassment in universities just because these kinds of issues do not get reported out of fear or shame. On the rare occasion that they are reported, the management of the given institutions simply mute, in defense of its reputation," he said.
Dr Vivian Dorothy, a research consultant based in Dar es Salaam, told Woman in a phone interview that universities were meant to be one of the best times of a secondary school graduate's life. For many, it's a time of exploration and self-discovery. Yet, for others, the experience isn't so pleasant especially when they come across the sexually-corrupted lecturers.
"Sexual harassment is a recurring phenomenon in tertiary institutions and for many years these learning institutions have been confronted with this problem. The main reason for the continual perpetuation of these acts is the existence of weak mechanisms in our institutions," she noted.
"It is a discriminatory practice that needs to be addressed. It is also a problem that is under-reported and under-researched. This gives a starting point for more research by the institutions in a bid to mitigate its profound effects on the victims," she adds.
When reached for comment, Professor William Anangisye, Udsm Vice Chancellor, said no further details can be disclosed regarding the matter because investigations were underway.
Female students who want a 'walk in the park'
Woman spoke to Dr Margaret Nyamonge, a former lecturer at the University of Dodoma, who said that the investigation should not focus on finding only lecturers who involve in the practice, but also should target those lazy female students who sexually bribe their lecturers for marks.
"In any campus, there are these lazy female students who want just a walk in the park, they always want an easy ride until the year of graduation. This has contributed to having graduates with 'good' fake grades that they never toiled for," she says.
Dr Vicensia Shule, lecturer at Udsm, says that "sexual assault cases against female students in the country are high because institutions do not have proper reporting systems."
"If there are proper channels for students at the universities to report cases of sexual assaults, then most people will be afraid to commit this offence and students would not be afraid of forward to report them," she explained.
"It is absolutely mandatory now for the country to realise and address this imperative issue as campuses should ideally be a space to groom students, not promote and embed sexual assault," she adds.