Coffee production to drop as credit woes bite: board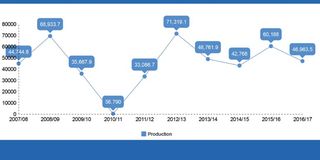 Summary
The board also says the lack of irrigation schemes, a large number of ageing coffee trees, and highly volatile coffee prices are other impediments.
Dar es Salaam. Credit woes, inadequate inputs and climate change will cut production this year, according to the Tanzania Coffee Board (TCB).
The board also says the lack of irrigation schemes, a large number of ageing coffee trees, and highly volatile coffee prices are other impediments.
It projects production to fall by 8.43 per cent.
The board's 2017 report has forecast production to drop to 43,000 tonnes 2018 from 46,963.5 tonnes in 2017.
In that event, stocks are also expected to decrease by 32,000 bags compared with those in the year that ended in June 2017, due to an increase in domestic consumption and export.
This means local producers need to pull up their socks to tap into the global market.
An estimated 3.5 billion cups of coffee are consumed worldwide every day, a promising market to coffee producers.
"We have been missing our annual production targets. The situation is likely to worsen this year," TCB executive director Adolf Kumburu laments.
In 2017, the board missed the target by 41.29 per cent.
Its production stood at 46,963.5 tonnes against the target of 80,000 tonnes.
The commodity performed well in 2013, when 71,319 tonnes were harvested.
Things were not well in all regions where coffee is produced.
In Africa, Ethiopia is the leading producer of coffee, with its 2017 production standing at 7.65 million, 60-kilo bags, according to Global statistical platform.
It was followed by Uganda, which produced 5.1 million, 60-kilo bags.
Worldwide, Brazil led as it produced 55 million, 60-kilo bags of coffee.
Vietnam came second, with about 28.5 million, 60-kilo bags and Ethiopia stood at 6th position. Way forward to improve production.
The government is implementing its strategic coffe plan (2011-2021) whose key objective is to double production 2021.
"We capitalise on studies to establish measures to improve production," Mr Kumburu said.
On climate change, he said new seeds would be developed.
The government also plans to improve value chain of the commodity by encouraging the private sector to process it before export.
To improve production, Tanzania can take a leaf from book's of agriculture of countries such as Uganda, Kenya and Ethiopia, which have been doing well as the crop prices are attractive to farmers.
Local consumption should also increase to attract farmers to raise production.
According to TCB, coffee consumption is at 7 per cent.
The main export destinations for Tanzania's coffee are Japan, Italy, United States, Germany, Belgium and Finland.
During 2017, Tanzania exported 5,772 tonnes of green coffee to Italy.
It exported 5,581 tonnes to Japan, 3,055 tonnes to the US, 2,743 tonnes to Germany and 2,537 tonnes to Belgium."The domestic coffee consumption is growing at an average of between 1.5 and two per cent per year due to a coffee drinking culture that is gradually taking root in the urban and semi-urban areas," according to the annual report of coffee, 2017.
The world coffee price improved in 2017 as demand rose.
The Bank of Tanzania report for January showed that annual commodity price for Robusta coffee increased by 14.4 per cent while that of Arabica coffee fell by 8 per cent.
According to the report, a kilo of Robusta coffee was sold at $2.2 in December 2017, compared with that of $2 a year before.
At the Moshi Exchange's auction on February 22, 2018, mild coffee was sold at an average price of $148.40 and $121.47 per 50-kilo bag for grade AA (highest grade) and C (lowest grade) respectively.
The average prices for grades A, AB, B and PB were $148.70, $145.60, $144.28 and $142.30 per 50-kilo bag respectively.
The Moshi Exchange average prices were above the terminal market by $13.95 per 50-kilo bag for Mild Arabica During the auction, 26,274 bags bags were offered in the market while 18,637 bags were sold.
Farm gate indicative prices were Sh3, 308 and Sh1, 383 for Arabica and Robusta coffees respectively.
About two-thirds of the coffee produced in Tanzania is mild Arabica, and the rest is hard Arabica and Robusta.
Mild Arabica beans are sold on wet processed, while Robusta is dry processed.
Pre-auction coffee marketing is undertaken through three channels including farm get market, coffee auction and direct export market.
Experts tout potential health benefits associated with drinking coffee as protection against type 2 diabetes, Parkinson's disease, liver disease, liver cancer, and promotion of a healthy heart.