History made as Maasai women own land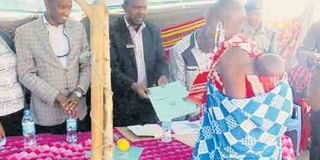 Summary
Ujamaa Community Resource Team (UCRT) has enlightened members of one of Tanzania's most traditionalist ethnic groups in a move to dispense justice to women, particularly widows.
Manyara. Women members of the Maasai pastoralist community have for the first time in the history of the ethnic group in the country secured rights to own land for economic ventures, thanks to efforts of a not-for-profit company which has been fighting for their rights.
Ujamaa Community Resource Team (UCRT) has enlightened members of one of Tanzania's most traditionalist ethnic groups in a move to dispense justice to women, particularly widows.
Founded in 1994 and registered in 2002, the UCRT supports local communities to improve their livelihood by controlling, managing and benefiting from their natural lands through sustainable management. The team recently carried out seminars on good governance and Land Use Plans (LUPs) which saw about 50 Maasai women, mostly widows, secure a Certificate of Customary Rights of Occupancy (CCRO) each.
Kiteto district commissioner Tumaini Magessa, handed over the CCROs to the women from Ngabolo and Ndedo villages in the district at the weekend.
A Maasai woman often is robbed of her family property, if not kicked out of her household, once her husband dies.
"I am now confident enough to defend my family's land," Nembris Alamnyak from Ndedo Village said shortly after she received her certificate.
Ms Alamnyak said the certificate was useful especially to widows with only female children who going by the Maasai traditions, were not allowed to inherit their families' property.
Another beneficiary of the CCROs, Ms Namayan Medelal, pleaded with the government to consider scaling up the UCRT project to ensure women countrywide owned land and traditions which oppressed widows like herself were discarded.
"As a widow, I felt protected after I attended the UCRT seminars," said Ms Elisabeth Kisau, a mother of four children, former Special Seats councillor and deputy chairperson of Makame Wildlife Management Area.
Ms Christina Lemunge, a mother of three children and incumbent Special Seats Councillor for Makame Ward, could not hold back her tears of joy, saying the historic ceremony would go a long way in liberating Maasai women.
She was optimistic the CCROs would inspire Maasai men and women to seek legally binding documents for ownership of their land.
Ms Namayan Tikoy, 66, a mother of three boys and three girls, who lost her husband 35 years ago, said the certificate she received for her 1.5-acre residential plot had revived her long lost dream of having her own roof.
The UCRT coordinator for Kiteto District, Mr Edward Lekaita, said although the team initially targeted to facilitate ownership of community land, it decided to interpret the Land Act Number 5 which dictates that women should also own land.
"Our goal is to extend this project to other groups and villages as well," said Mr Lekaita, as he extended the UCRT gratitude to the Foundation for Civil Society for financing it.
UCRT, which has so far successfully enabled 88 villages of Arusha and Manyara regions to have their own LUPs, boasts winning a global award for land and natural resources sustainable management.It currently works with eight ethnic groups in over 70 villages scattered across northern Tanzania, empowering them to secure their legal rights over their lands and natural resources.
Mr Lekaita said the seminars the team had conducted in the two villages during the pilot project had also led to the formation of traditional councils for women, which were holding joint meetings with their male counterparts to compare notes.
While some male traditional leaders dubbed Laigwanans were admiring contributions their female counterparts -- Ngaigwanaks -- were making in transforming values and norms of the ethnic group, others were scared of their power to argue constructively, he noted.
Kiteto District Council director, Mr Tamimu Kambona, said the excellent performance of the UCRT called into question the need for deregistering some underperforming non-governmental organisations in the district. Mr Kambona pointed an accusing finger at some civil servants for preventing good LUPs from taking off in the district.
Directing the district council's Lands Department to accomplish the LUP for Olpopom area, he suspended a calendar leave for the head of the department, pending completion of the work.
Mr Magessa said, in turn, that many women in the country would like to own land but gender discrimination, which was deeply embedded in the society, failed them. "UCRT is working hard to empower women to access their rights, but the challenge is: Are women themselves ready to own land?"
Although the Maasai women had received the CCROs, Mr Magessa doubted if the beneficiaries would not hand over the money accrued from the plots to their husbands.
He cited one man, who celebrated the arrival of the Tanzania Social Action Fund's financial assistance to women at his village, knowing that his wife would secure a loan from the fund.
"Unless bearers of these CCROs are confident of their land ownership, the certificates will be useless," he said. Mr Magessa cautioned UCRT project beneficiaries over confusing the certificates with tickets to overthrow their husbands.
He challenged the UCRT to go back to the villages to evaluate the role the CCROs will play in the pastoral community.
"No villager should claim any of the surveyed plots belongs to him," Mr Magessa said, explaining that such conflicts would deter the UCRT efforts and discourage the team from supporting communities.
She implored the CCROs beneficiaries to share the LUP knowledge with other villagers and other Maasai women to consider incurring the cost of acquiring their own plots instead of waiting for the UCRT support.