The Belt and Road initiative and China-Tanzania relations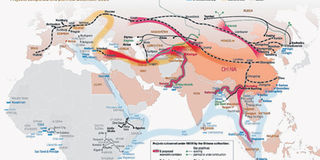 Summary
The maritime route started from China's South-East coastal areas and reached East Africa and Europe through Indo-China Peninsula, South China Sea Islands, the Indian Ocean and the Red Sea. At that time, silk was the landmark export commodity of China, therefore, the two routes were named 'Silk Road'.

As early as two thousand years ago, China opened up a network of trade routes both on land and at sea. The land route started from Chinese inland cities and reached the Mediterranean countries through Central Asia.
The maritime route started from China's South-East coastal areas and reached East Africa and Europe through Indo-China Peninsula, South China Sea Islands, the Indian Ocean and the Red Sea. At that time, silk was the landmark export commodity of China, therefore, the two routes were named 'Silk Road'.
In 2013, Chinese President Xi Jinping launched a major initiative to jointly build "the Silk Road Economic Belt" and the "21st Century Maritime Silk Road", which was to revitalise the two time-honoured land and marine for international trade. Later, China merged the two initiatives, and named it 'The Belt and Road'.
It was not empty talk. The 'Belt and Road Initiative' is a full set of visible and tangible measures. China aims at driving the relevant regions to realise common development and prosperity, speed up regional integration, narrow the development gap and increase complementarity of each country's advantage, in the five major areas of policy coordination, facilities connectivity, unimpeded trade, financial integration and people-to-people bonds.
Enhancing policy coordination
This is an important guarantee for implementing 'The Belt and Road Initiative'. We hope all participant countries will enhance political mutual trust, build a multilevel inter-governmental policy communication mechanism and dock their economic development strategies with each other. They are also expected to jointly work out plans and measures for regional cooperation, negotiate to solve cooperation-related issues, and provide policy support for the implementation of practical cooperation and large-scale projects.
This is a priority area for implementing the initiative. On the basis of respecting each other's sovereignty and security concerns, countries along 'The Belt and Road' should improve the connectivity of their infrastructure construction plans and technical standard systems; jointly push forward the construction of international trunk passageways, including railways, roads, airways, oil and gas pipelines, cross-border power-transmission routes and cross-border communications trunk line networks.
Investment and trade cooperation
This is a major task in building 'The Belt and Road'. We should strive to improve investment and trade facilitation, and remove investment and trade barriers for the creation of a sound business environment.
We will discuss with countries and regions along the Belt and Road on opening free trade areas and industrial parks, so as to unleash the potential for expanded cooperation. In accordance with the principles of mutual complementarity and win-win outcome, we should deepen cooperation in agriculture, forestry, animal husbandry and fisheries. We should increase cooperation in the exploration and development of coal, oil, gas, metal minerals and other conventional energy sources.
This is an important underpinning for implementing the Belt and Road Initiative. China hopes to make joint efforts to establish the Asian Infrastructure Investment Bank and Brics Development Bank, set up and put into operation the Silk Road Fund as early as possible. We should build a regional financial risk early-warning system, and create an exchange and cooperation mechanism of addressing cross-border risks and crisis. We should give full play to the role of the Silk Road Fund and that of sovereign wealth funds of countries along the Belt and Road, and encourage commercial equity investment funds and private funds to participate in the construction of key projects of the Initiative.
This provides the public support for implementing the initiative. We should carry forward the spirit of friendly cooperation of the Silk Road by promoting extensive cultural and academic exchanges, personnel exchanges and cooperation, media cooperation, youth and women exchanges and volunteer services, so as to win public support for deepening bilateral and multilateral cooperation.
Started from scratch in 2013, the Belt and Road Initiative has been growing healthily and gained much unexpected progress and outcome. It has won the support of more than 100 countries and international organisations, and has become an extensive international consensus.
It has been written into resolutions of many international bodies including the UN General Assembly and UN Security Council. Currently, we are building the economic corridor in Euro-Asia. We have also witnessed greater connectivity, growing trade and investments and steady progress in major cooperation programs.
Since January 1st this year, China-Europe Express Rail was launched and trains were seen crossing 8 countries within 18 days, making it a latest wonder along the Belt and Road. Upon hearing the news, President Magufuli said to me that this direct rail link between China and UK is a remarkable and imaginable achievement in the world. It is one of the greatest feat in the history of transportation.
Actually, building intercontinental railway networks is a part of the Belt and Road Initiative. It will greatly promote trade with China, which in turn will help the global economy to grow.
Mr Lu Jianing, chairman of the Far East Branch of Russian Academy of Science, said that the Belt and Road Initiative is different from other development programs of the west. It offers a better option for the world than the old globalisation under the control of US.
World development, security
It injects positive energy to global economy. Due to the deep impact of the financial crisis, the sluggishness of global economic recovery, plus downturn of investment and trade, the growth of major economies are slowing down. Meanwhile, protectionism, isolationism and unilateralism are on the rise. Tide is rising against globalisation. These trends pose a great threat to global economy.
It is at such a difficult moment for the world when western powers are struggling with their own economy, China launched the Belt and Road Initiative, which is like a warm current that brought new hope for global recovery.
The Belt and Road Initiative conforms to the trend featuring a multi-polar world, a globalised economy, diversified culture and informationised society.
Advocating the spirit of open up and cooperation, the Initiative is committed to maintain a liberalisation of international trade and an open world economy. It will enhance the confidence of all countries on cooperation, dispel the dark cloud of economic stagnation and inject new energy to global economic growth.
New economic cooperation model
It is a brand-new international cooperation model for many reasons. It champions the ideal of common development. It aims at seeking convergence of state interest, destiny and responsibility. It focuses on making a bigger pie for all and pursues win-win outcome.
It advocates cooperation based on equality. It upholds the principle of achieving shared growth through discussion and collaboration. All interests are well catered for. There is no hegemonic agenda or political conditions attached, granting full freedom of development to all participants.
It is by no means a China-only project. It is a public product offered by China to the world. It's applicable everywhere and will serve anywhere as a strong drive of economic growth. It reflects a long-term vision of China for global economy, and shows China's strong sense of responsibility and accountability as a major country in the world.
Political, economic re-balance
The old international political and economic order was set up by western powers based on their financial, technological and rule advantages. The old order limits the growth of developing countries and widens the gap between the South and North. The participants of the Belt and Road Initiative are mostly developing or least developed countries.
Through this initiative, China will share with them the dividend of its development and reform, as well as its experiences and lessons learned in growth. China will also transfer abroad its competitive production capacity and industries with comparative advantages. This will help narrow the gap between underdeveloped and developed countries, remove bottleneck problems in the development of relevant countries, and greatly improve their own production capacity.
Meanwhile, the initiative encourages cooperation and dialogues among participants, facilitate cooperation based on connectivity, resource-share and complementary advantages. This will create favourable conditions for regional collective rise. We can say that the Belt and Road Initiative is a self-help action featuring unity and self improvement of developing countries, which has a prospect of breaking the wealth disparity and imbalanced regional development in the past, and promote common and balanced development.
Promotes world and regional peace
The Belt and Road Initiative features peaceful development. It was initiated on basis of Five Principles of Peaceful Co-existence and was branded with 'Peace'. It is against exclusivism. It has no intention to form military alliance. It poses no security threat to any country or region. The initiative champions friendship and cooperation, emphasises the concept of Community of Shared Destiny.
It calls for an enhanced political mutual trust, enlarged open cooperation and will help to alleviate or even solve misunderstandings, differences or conflicts between countries. Today, the international community is troubled by growing non-traditional security threats including terrorism, illegal migration, famine, cross border crimes and environmental degeneration.
Yet the root cause of these problems are poverty and imbalanced development. Should they have decent lives? Who wishes to be a human bomb, flee from hometown, or kill each other? In this sense, this development brings security. Development also holds the master key to all global security challenges.
Priorities for intentional cooperation of the Belt and Road Initiative include economic development, job creation, poverty reduction, livelihood improvement, and environmental protection. It aims at common development, especially in those less developed regions, which in turn, will address the root cause of the security problems in front of human beings.
Prospect of China-Tanzania cooperation under the framework
Beijing will host the Belt and Road Forum for International Cooperation this May. The forum aims at drawing up a blueprint for the future development of the Initiative, better docking each other's development strategies and translating cooperation into more concrete projects. China has invited the Tanzanian government to attend this Forum to discuss cooperation under the Initiative.
Tanzania was invited, not only because it is a historic and natural part of the Maritime Silk Road, and it is a landing point of the Belt and Road in Africa. More importantly, Tanzania was invited because of its special traditional friendship with China built since history.
In 2015, the Chinese government selected Tanzania as a pilot country for China-Africa capacity cooperation. Currently, China is the largest trade partner and project contractor of Tanzania, and a major source of FDI.
A large number of Chinese state-owned and private companies with strong capital, technical and management capacity are taking part in Tanzania's industrialisation. The outcomes of China-Tanzania cooperation can be seen in various sectors of the economic development and all the aspects of people's livelihood in Tanzania.
The Nyerere Bridge was built by a Chinese company. It is the largest cable-stayed cross-sea bridge. The project quality was highly commended by President Magufuli. Tanzanian National ICT Backbone Broadband Network, constructed by a Chinese company, has brought a leapfrog to Tanzanian network application from none to first-class.
It well bridged the digital gap between Tanzania and developed countries. The natural gas pipeline, laid down by a Chinese company, helped Tanzania to realise its dream of generating electricity with its own resources.
Besides, more Chinese invested projects will start production in the coming two months, including the largest ceramic factory in East Africa with Chinese investment of $80 million, and a modern steel plant with an investment of nearly $30 million.
It is fair to say that China-Tanzania capacity cooperation has born early fruit which has laid a sound foundation for the bilateral cooperation under the framework of the Belt and Road Initiative.
The highly complementary national development strategies is an internal impetus to push forward the Belt and Road Initiative. We can see from the promises made by President Magufuli during his presidential campaign, Tanzania's "Second Five-Year Development Plan" and the measures taken by the government in the past year, that, President Magufuli is leading Tanzanian people to forge ahead on the road of building a middle-income country by improving infrastructure, expanding economic and trade cooperation with foreign countries, promoting industrialisation, invigorating agricultural industry and other strategic measures.
The above-mentioned development strategies well-matched the concept and content of the Belt and Road Initiative. Furthermore, to better grow its economy, Tanzania must firstly well address three weaknesses, namely lack of technology, capital and skilled personnel. China has comparative advantage in these three areas and is willing to help Tanzania without any reservation because we truly wish to see our brothers live a better life. I also need to point out, starting from solving the problem of food and clothing, it took China less than 40 years since adopting reform and opening up policy to become the second largest economy in the world. China's development path, model and experience have a strong reference to Tanzania. In the process of jointly building the Belt and Road, we will share these experiences with the Tanzania to help avoid detours and move toward strength and prosperity.
Because of these special advantages and common interests between China and Tanzania, I firmly believe that the Belt and Road Initiative will further widen and deepen China-Tanzania cooperation and contribute to better economic and social development of Tanzania.
Dr Lu Youqing is the Ambassador of the People's Republic of China to Tanzania