COVER: At home with Dr Jane Goodall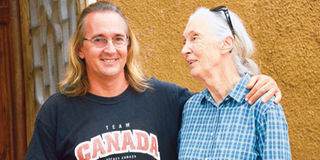 What you need to know:
She celebrated her 80th birthday in April and her schedule is still as busy as ever before. For Dr Goodall, there is no resting until her body gives in

Dr Jane Goodall shares the secret to healthy living. She says eating lots of fruits and vegetables will add years and strength to your life
Dr Jane Goodall is looking forward to her death. The British primatologist who turned 80 in April says for her, death is an adventure. Having lived a full-life as an ethologist, anthropologist, United Nations Messenger of Peace and known for her 50-year study of the social and familial interactions of the chimpanzees in Gombe Stream National Park in Kigoma, Dr Goodall feels that death is not something to fear. Another accomplishment in her life is that she is the founder of the Dr Jane Institute and the Roots and Shoots programme run in schools in more than 130 countries.
With a calm voice, she looks at me straight in the eyes and says; "The process of dying is what I would like to avoid. I don't want to be a burden to my family and friends. I don't fancy the idea of losing my memory and not being able to walk. But my body might stop responding. I will not have a choice when that happens."
"But then again why should I fear death? There are two things here. Either what the atheists believe is true, that there is nothing after death; or there could actually be a life on the other side. In both cases, there is no reason to fear. I am looking forward to finding out. I think it is going to be quite an adventure."           
She was always adventurous, ever since she was a little girl and recalls spending several hours in a chicken pen when she was five, trying to figure out how a chicken laid eggs.  Her mother, Veanne encouraged her to pursue her curiosity of the animal kingdom and come to Gombe for her study on chimps. "Mother told me that I could do anything if I put my mind to it. I am always grateful for that," she says.
"I hate travelling," Dr Goodall says and points at bags near the door in her bedroom. In her recent 10-day stay in Tanzania, Dr Goodall who is now based in the UK visited Gombe. The thing about Dr Goodall is that she is always on the move. She rarely stays at home. She travels 300 days a year to share her passion with students and at various international conventions; and is more familiar with airports and hotel rooms. She visits her work in Gombe twice every year.
But Gombe wasn't just her working station. It was her home. "It is just not the same anymore," she speaks about the forest. Now that it has become a National Park, it is more of a tourist attraction. "Even the trails have changed, and the chimps are not the same. I do not like feeling like a tourist there," she says. But there are other two places in the world where she feels more at home. Her home in Dar es Salaam, where she lived with her late husband, Derek Bryceson; and her home in Bournemouth, England where her sister Judy also lives. Of these two, she says that her house in England is where she feels more at home. And after the year-long travel that is where she stays. "The place brings back so many memories of my childhood and my family," she says with a smile.
While at home in Dar es Salaam recently, she invited me for a chat at her beautiful house in Mikocheni. When I arrived she asked that I be led to her bedroom; something that shocked her staff. One of them, Erasto, who is Roots and Shoots Programme Manager says he has never seen this happen before in all the years that he has worked for Dr Goodall. He has been a staff for 13 years and was involved with the programme since his High School years. 
Located on the shores of the Indian Ocean, Dr Goodall's Dar home is now used for work-related purposes. Her son, Hugo Eric Louis (popularly known as 'Grub') lives in the compound with his family. She had Grub with her first husband, Hugo Van Lawick who was a photographer. On entering the house, we found a group of filmmakers downstairs interviewing two men of Asian descent who knew Dr Goodall from Kigoma. They are making a documentary film about her life. Although this isn't a new thing to Dr Goodall, it is the first time that a documentary made about her will use an actress to play the role of the 'young Jane'.
The two-storey building is decorated with animal paintings and carvings.  Although the front yard is dried by the Dar sun, the back porch is green and flowery.
Her room is upstairs and when I approach the door, she asks her staff to give her five more minutes. This gives me more time to study the library at the entrance of her room. Most of the books here are novels; and some are nonfiction about animals, evolution and different subjects on Africa. She admits later on that she doesn't have time to read these days, unless she has to read for work.
When she is finally ready, the door opens to a wide smile. Her grey hair tied back and black sunglasses on her head, Dr Goodall, who is barefoot greets me with a gentle grip. She speaks softly and looks at me straight in the eye. On the left side corner, a 3x5 bed covered with a pink bedcover, a Mac Computer on it, sits next to a high table by the window. On it are postcards, papers and a manuscript she is busy working on. 
"There is no time to rest," she comments when asked why she has such a busy schedule. Dr Goodall says she shall not rest unless her body gives in and what she can do is yield to it. As far as she knows, she is strong and healthy. And what is the secret to a healthy body? "A lot of vegetables and fruits," she says. She has been a vegetarian for many years. Her favourite Tanzanian vegetable is mchicha; mangoes are her favourite fruits.
On the coffee table lies her latest book, 'Seed of Hope'. The cover shows her wearing what she is seen wearing on most occasions; which is what she was wearing when we met – a pair of trousers and a shirt. "I do have dresses," she says with a laugh and adds: "I am just more comfortable in such attire."
During her recent short stay in Tanzania, she went to see the new movie 'Dawn of The Planet of The Apes' at the Century Cinemax at Mlimani City Mall. The film is about a growing nation of genetically evolved apes led by Caesar (an ape) who is threatened by a group of human survivors of a devastating virus that was unleashed a decade earlier. They reach a fragile peace, but it proves short-lived, as both sides are brought to the brink of a war, which will determine who will emerge as Earth's dominant specie. "It was too violent for me," she says with a laugh. 
But fighting for the rights of Chimpanzees was not a story tale, it was real. And for a while she shared this reality with her second husband who left her the house in Dar es Salaam. "My husband and I owned this house," she says with a smile. In 1975, she married Derek Bryceson who was a minister during President Nyerere's regime. Although her husband was a politician, she decided not to be one herself and focused her energy on what she was most passionate about. He husband died of cancer in 1978.
It wasn't a conscious decision to not remarry after Derek, nor does she regret that it happened that way. "It just happened," she says and adds: "Besides, I have my son, my sister, my work. Who would want to marry me? I am so busy." She speaks of him as if he is still with her and says that he once visited her when she was in Gombe. To her, Gombe is a spiritual place. 
She walks me downstairs without aid. Her steps are big and her movements quick. Suddenly, she starts looking for 'him'. "Where is he?" she asks aloud, the question not directed to anyone specifically. She finally found him in the kitchen. Mr H, her travel companion. Mr H is a stuffed monkey with a banana in his mouth. She has been travelling with Mr H for more than 18 years and tells me the tale of the real Mr H who gave him to her. Erasto teases that once, Dr Goodall had forgotten Mr H at President Mandela's house. The chimp was sent to Dar es Salaam and was treated with great esteem by security officers. "He is more famous than me," Dr Goodall says chuckling.
As I am about to leave, we find a commotion in the loo downstairs. One of the guests had broken a loo seat. Dr Goodall and all the staff burst into laughter. To make matters worse, Dr Goodall scribbles on the toilet seat: 'Witnessed, by Dr Jane Goodall.